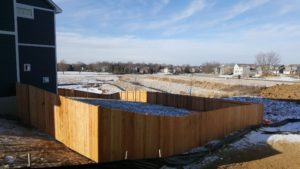 Damage can occur to your fence any time of year, even during the winter. The brutally cold temperatures and heavy snow and ice accumulation that hit the Minneapolis, MN area each year can be part of the reason why your existing fence got damaged. For this reason, there is no off season for our team at Twin Cities Fence. Unlike some other fence repair companies in the area, we will work through the cold temperatures and get your fence back to 100% strength no matter what time of year it may be.
Timely Fence Repairs
When your fence needs repairs, chances are you need the work done quickly. Our fencing professionals at Twin Cities Fence have been around for over four generations in large part because of the way we treat our clients. Your fence repairs are a priority for our staff, regardless of how big or small the repair is. We offer 24-hour emergency fence repair service, even during the winter. Fences serve as barriers and protection for many residential and commercial property owners in Minneapolis, so we understand the need for timely repairs.
Complimentary Estimates
At Twin Cities Fence, we want you to be comfortable with the repairs that you commit to with our winter fence repair team. We'll provide you with a complimentary estimate on the fence repairs that you need. This estimate will detail out the costs of the repairs and to top it off, there are no hidden fees with our staff. Our staff has a passion for fences, so we love sharing our knowledge and expertise with members of the surrounding community. There is a very competitive fence repair market in Minneapolis, and we are confident that our prices, quality repairs, experience and full season service will be reasons why you choose our expert fence repair specialists over the competition.
Diverse Repair Work
Whether a tree has fallen on your fence, the gate on your fence is malfunctioning or your entire fence has aged over time, Twin Cities Fence has you covered. Rest assured that we only recommend repairs that are truly needed. Taking advantage of our clients is not something that we want to be a part of. If parts of your fence are in great shape, we'll leave that area completely alone and focus only on the area that needs repairs.
If you are looking for an affordable and experienced roofing contractor that provides winter fence repairs in the Minneapolis, MN area, there's no better choice than our team at Twin Cities Fence. To request a free estimate on your fence repairs, give us a call today at (612) 443-1948.