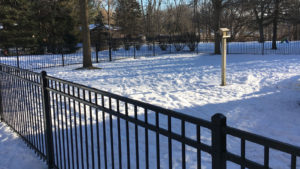 Home improvement projects tend to take a break in the winter before gearing up again in the spring, but what about that fence you've been meaning to install all year? Maybe you held off to save up the money, or you weren't quite sure which type of fencing you wanted. Maybe you simply didn't have time to find a good fencing contractor near you to get the job done right. Whatever reason you have for putting off your fence installation, don't sweat it. At Twin Cities Fence, we install fences all winter, helping Blaine, Anoka, Andover, Ham Lake, and Coon Rapids, MN homeowners and business owners alike continue with their property improvements despite the cold weather.
Can I Install a Fence In Winter?
Yes! In fact, it's encouraged! Installing fences in the winter is something that people often think is impossible, either because it's too cold or too snowy. The truth is, there are only two reasons a fence shouldn't be installed in the winter.
If the ground is too wet, we can't install a fence in muddy ground because it won't set up right. We could try to install a fence in the wet ground, but it won't look good, and it won't be nearly as stable as a fence installed in dry earth. As long as there haven't been heavy rains, though, we should be fine to install your fence – and any type of fence – in the winter.
If there's too much snow covering the ground, we likely can't securely install a fence. It's best to wait for the snow to clear enough for us to penetrate the ground and ensure the earth is dry enough for us to proceed.
Benefits of Winter Fence Installation
With those two reasons to delay fence installation in mind, why might is be best to install a fence in the winter time? In reality, there are several benefits to winter fence installation that many fencing contractors will not tell you about. The fact is, we get less business in the winter. With home and business owners thinking fences can't be installed in the winter, it's simply a slower season for us. That means you'll get our full attention and the benefit of having our team completely at your disposal. After all, the fewer jobs we have going, the more time we can spend every day on our jobs! In addition, you won't have to wait to schedule your fence installation. Because we aren't as busy as the spring and summer, when everyone and their neighbor needs a new fence or fence repairs, we'll be able to schedule your fence installation for whenever you want, and you can enjoy your fence once spring rolls around while everyone else is waiting for their fences to be finished!
Commercial & Residential Fence Installation
To schedule a time to meet with our winter fencing installation contractors of Blaine, Anoka, Andover, Ham Lake, and Coon Rapids, Minnesota, call Twin Cities Fence today at 612-443-1948, and look forward to a free fencing estimate and great service.