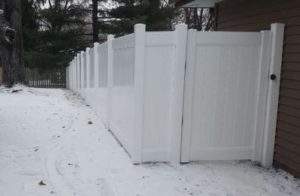 Having a privacy fence installed around your property can make the place more secure, convenient and enjoyable. Freezing temperatures, blowing snow and road salt can be challenging for Minnesota fences if they are made of lesser quality materials or if installation is not done correctly. Your fence installation company will need to have the right equipment and understanding of how the frost line affects the performance of the fence. Twin Cities Fence installs commercial and residential fencing that look and perform very well in cold climates. When privacy is a concern, they can provide you with high quality fencing options like wood, vinyl, Trex or chain link with a privacy screen.
Privacy Fencing Options for Cold Climates
Cold climates in particular can put any privacy fence to the test. Frozen soil, heavy snow and chilly wind put a lot of strain on fence posts and panels. High quality, durable materials are a must if you want a fence that lasts for multiple years with little maintenance. Proper installation is extremely important for dealing with frost issues and materials that may shrink or become brittle on cold, dry winter days.
Privacy fencing options installed by Twin Cities Fence are durable enough for cold climates
Wood Privacy Fencing (traditional fence with lots of versatility)
Vinyl Privacy Fencing (durable, stylish, low maintenance PVC)
Trex Privacy Fences (weather resistant, long lasting, low maintenance)
Chain Link Fence with Tinted Privacy Screens (most affordable)
Benefits of Installing Privacy Fencing for Winter
Having privacy fence during the winter months can be a lifesaver. There are many benefits to having fencing professionally installed by Twin Cities Fence.
Safe place for children and pets to play outdoors in a private space
Enjoy soaking in a hot tub in the privacy of your own yard
Entertain guests around a cozy fire pit with no intruders
Grilling outdoors can be a nice way to enjoy a cold day
Holiday parties are more fun when guests feel safe
Chill beverages on the patio without worrying about theft
Privacy fences can be decorated with lights and decorations
Let the dog out to do his business when you don't' want to walk him on dark, slippery streets or icy sidewalks
Privacy Fence Installation Experts
The team at Twin Cities Fence understands the demands that winter can put on any type of fencing material. Our privacy fence installation experts can assist you in making the best choice for your fencing needs and budget. Careful attention is paid to make sure that every fence post, panel, gate and design element is installed for optimal performance all year round in all kinds of weather.
Contact Twin Cities Fence at: (612) 443-1948 for more information on Wood, Vinyl, Chain Link and Trex® fencing for better privacy.