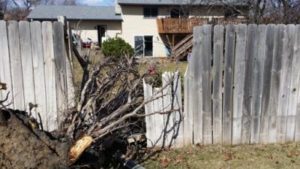 At Twin Cities Fence, we offer more than just fence installation services. Truth be told, we offer the total package when it comes to residential or commercial fencing. One key factor about our fencing services that sets us apart from the other fencing contractors in the area is that we offer 24-hour fence repair services. So, whenever the unexpected occurs with your fence, our team at Twin Cities Fence (TCF) is here to help!
Dog Gets Loose? We've Got You Covered
One of the most common residential fence repair calls that we receive is when a family's dog has found a way out of their fence. Whether it is damage specifically to the fence or if they've dug under your existing fence, TCF can fix this type of fence repair with ease. The last thing that we want is for you to lose your dog, so pick up the phone and call our fence repair team 24 hours a day!
Fence Gate Not Working? We've Got You Covered
A common commercial fence issue that we regularly address is a fence gate malfunction. If you're running a business, dealing with a fence gate that will not open or close can be extremely stressful. How are you going to keep the expensive equipment or materials on your property protected if you can't get your fence gate to close? Well, the answer is simple. Pick up the phone and call our expert fence repair team at TCF and we'll be there to help fix your fence gate no matter what time of day it may be.
Storm Damage Fence Repair
Has a heavy storm caused damage to your fence recently? Fences are very durable, but sometimes mother nature can get the best of even the sturdiest fence around. So, if storm damage has caused damage to your commercial or residential fence, all you need to do is let our professional fence experts know and we'll get your fence back to full strength quickly.
Family Focused
At TCF, our staff considers our clients family. We understand how important a functional residential or commercial fence is to your property, so we feel it is necessary to offer 24-hour fence repair options. While many fencing contractors shy away from this type of commitment to their customers, our team at TCF keeps the best interests of our clients in mind with everything that we do.
24 Hour Fence Repair
No matter what the reason may be for why your fence needs to be repaired, our crew at TCF is the best option for you. Offering 24-hour fence repair services, give us a call today at (612) 443-1948 and we'll handle your fencing repairs in a jiffy!