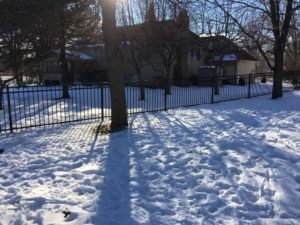 Fences are, in our opinion, one of the best part of any home – or business, for that matter. Whether your fence is there for purely aesthetic reasons or it's actually intended to keep something in or out of your property, a fence is an integral part of a property. When you want a fence that's both functional and beautiful, an ornamental fence can help you achieve just that. Ornamental fences look decorative, by nature, and depending on the size, materials, and designs you choose, your fence can be as functional and aesthetically pleasing as you choose. And if you've decided on the fence you want, or even if you're still considering your options but want a fence installed soon, why wait to start until spring? With Twin Cities Fence, you can start installing your fence now and finish before spring arrives! Our Minnetonka, Minnesota winter ornamental fence contractors will help you make final fencing decisions and start breaking ground to make the fence you need a reality.
Types of Ornamental Fencing We Install
If you're not sure what type of fence you should install on your property, take a look at the various materials we use to create ornamental fencing. Ornamental fencing can truly be anything you'd like through a little customization! Some ornamental fences you might consider are:
• Ornamental steel fencing
• Latticed wood privacy fences
• Ornamental vinyl picket fencing
Your needs will determine which fencing type is best for you, and we can help you decide. If you're looking for a great decorative security fence, you might choose a tall aluminum or steel ornamental fence. If privacy is what you're after, you could choose a wood or vinyl privacy fence with detailing. If you're just looking to add a small amount of security to your yard at home and want to match the aesthetic of your home, perhaps a picket fence would be the right fit.
Challenges of Winter Fence Installation
While it's true that outdoor work is inherently harder in the winter, it's nowhere near impossible to install a fence in winter. In fact, we encourage winter fence installations because this is the season when we have the most time to devote to our projects and our customers. While everyone is taking a hiatus from home improvement projects and business property changes, we're still working, and that means that you can catch us at a time when we can fit you in just about any time you choose. As long as the weather cooperates, we can go about business as usual. The only challenges we face are when the snow falls too heavily, burying and freezing the ground, and when the earth is too wet for us to effectively install fencing.
Experienced Winter Fence Company
At Twin Cities Fence, we've worked on winter fence installations long enough to know when we need to wait on an installation and when it's a great time to install a fence. We'll make sure that whatever fencing you choose is installed at the right time with the highest level of care. To contact our Minnetonka winter ornamental fence installers, call us at 612-443-1948.