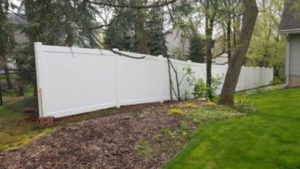 Fences are a great investment and oftentimes a necessary part of your yard. Having kids, pets and maybe a pool or other equipment that you want protected, it is nice to be able to protect your yard. Some fences provide more than just a barrier, but can also add a layer of privacy if you have close neighbors. There are two great options for privacy fences: wood and vinyl. Wood fences are a more classic look, but can be expensive and not as long lasting as a vinyl fence.
Privacy Fence Options
Whatever you choose for your home or business, we will provide the best service and professional installations. When you work with us we can help guide you to the right decision for you and your home or business. We will chat with you to show you the pros and cons of each type and understand what works best for you when it comes to pricing, look and functionality. No matter what privacy fence we install for you, you can look forward to noise reduction, additional shade, and greater protection for your property.
Both wood and vinyl fences can be adjusted to meet your needs. These two styles both provide sturdy fencing that offers privacy and security. It is perfect for a home with children, pets, or valuable backyard belongings. It will be virtually impossible to peer into a yard or property with this fence style.
Furthermore privacy fences not only provides privacy, but they look great from either side. If the perimeter of your yard goes right up to another property, this may be the best option. These fencing options ensures the fence has the same great look on both sides.
Fencing Repair Services
Whatever privacy fencing system you choose to suit your home or business, be sure that you have carefully weighed your options to choose what is right for you. Each material has not only a different look but a different function and a different price point. No matter what privacy fence works best for you, we are the ones that you can install it for you, and if you have any problems in the future we provide fencing repair services and even 24 hour emergency services in case the fence is 100% necessary for daily life, whether it be your business or keeping animals contained within your yard.
Winter Install Ok
If you are looking for a reputable fence company that serves Plymouth, Minnesota then Twin Cities fence is the right choice for you! With our years of experience, hardworking team and great reputation, we know our fences and know how to keep our customers happy so give us a call today and we can help build the right privacy fence for you!