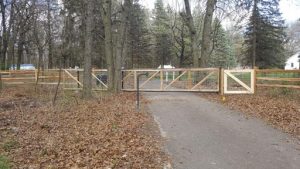 The winter months in Minnesota can be brutal. Mother Nature brings significant snowfall, ice, wind and cold temperatures year after year that can damage your fencing system. Twin Cities Fence works twelve months a year in the North Metro area to repair and replace gates and fences that have been damaged by the harsh winter elements. Our fence repair contractors can complete a simple repair or a full replacement, depending on your needs. Your gate and fencing system are in place to protect your property. If the weather has done damage, then it cannot do its job for you. Let our team get your gate and fencing system functioning property this winter.
Year-Round Gate and Fence Repair and Replacement
The team at Twin Cities Fence can repair all types of fencing including wood fences, vinyl fences, aluminum fences, steel fences, ornamental fences, and wood fences. We will take a conservative approach and only repair the parts of your fence that need repair if that is possible. Very often, we are able to replace a portion of your fence that has been particularly damaged by the weather and we have the materials and equipment to make sure that the area replaced matches the style and color of the existing fence. This can save you time and money.
Twin Cities Fence also specializes in gate repair. We understand that if your gate is broken, you may not be able to let you pets (or children) outdoors as you like. If you use your gate for added security, a broken gate can leave you feeling vulnerable. Our contractors understand that fence and gate repair need to be handled quickly, so we respond to our customer requests 24/7 and 12 months a year.
Trusted Fence and Gate Repair Company in North Metro
If it turns out that you need to replace your gate or fence, Twin Cities Fence can handle this job as well. We can provide you with information about materials that work best given your budget and the Minnesota weather. Relationships with our customers are very important to us, so you can be confident that you will be truly taken care of. We stand behind our work, use high quality materials and respond to the unique needs of our North Metro area customers. For more information or to schedule a time for our team to come take a look at your fence or gate, call us at 612-443-1948.