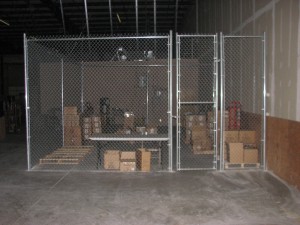 When you think about fencing options, you may automatically think only of outdoor fences. However, there are many options for indoor fences that are used all over the Blaine, Minnesota area. Twin Cities Fence installs commercial indoor fences for many different companies including sports facilities, pet facilities, storage facilities, warehouses and even hotels. Our fencing contractors are reliable, experienced and committed to providing you with excellent customer service. Our company specializes in fence installation so you can be confident when you partner with us that you will get exactly the fence that you need for your business.
Some of our most common commercial indoor fence installation projects include:
● Indoor gymnasium fences: If you need more security around your gym, a fence can go a long way toward giving you that additional protection without a huge cost.
● Indoor pool fencing: Safety is extremely important when you are responsible for an indoor pool. A locked fence around your pool creates a sound barrier so that no one can access the water when the pool is not open.
● Indoor pet kennel fencing: If you own a kennel, you know how important it is to keep the pets in your care safe. Fencing can help you create barriers in your facility that keep groups of dogs together and away from others so they can exercise without needing to go outdoors.
● Indoor fencing for storage facilities and warehouses: Indoor fencing is an excellent way to keep your warehouse or storage facility organized, well maintained, safe and secure.
Commercial Indoor Fencing Materials
Just like exterior fencing, you have many choices when it comes to the materials that can be used for indoor fencing. Twin Cities Fence can install wood fences, vinyl fences, chain link fences, aluminum fences, steel fences and even trex fences, which is environmentally friendly and has the look of a combination of wood and vinyl. If you are unsure what material best fits your needs, our installation experts can help you determine the best fencing material for your space.
Indoor Fence Contractors in Blaine, MN
Indoor fencing can add an extra layer of security to any indoor area that you want to keep protected. If you have a Blaine, MN business that you think might benefit from an indoor fence, give us a call and we will come out for a free consultation. Call Twin Cities Fence at 612-443-1948 to speak with a member of our experienced team.