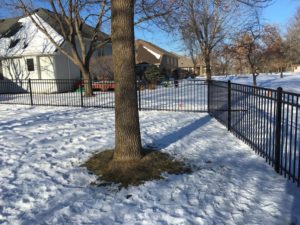 Looking for a winter fence installation company in Golden Valley, Plymouth, or St Louis Park, MN? Look no further than Twin Cities Fence. We offer year round fencing, no matter how cold the wind blows!
Year Round Fence Installer
Yes, we know it's winter and no, we aren't crazy. Twin Cities Fence has been serving around the area for over four generations. We have the background and experience in the fence installation business to provide any style of fencing that you need. With a vast amount of knowledge in both residential and commercial properties, no fencing system is too large or small of a job for us to handle. Whatever your fencing needs are, Twin Cities Fence has got you covered.
Residential Fencing in the Winter
This time of year, finding a residential winter fence installation contractor can be difficult. Through our resources and experience, we can easily accommodate any job. You may already know what type of fence you'd like and you may already have your material picked out! That's great. We are happy to install whatever you'd like to make your property beautiful and functional. If you are still undecided, our team can help you choose the best materials and styles that match your needs both aesthetically and functionally. At the end of the day, we want your fence to fulfill all of your needs and wants for your property.
Commercial Fencing in the Winter
Commercial fences can be tricky as they generally serve two purposes. Number one, you really want your property to look nice, especially if you have clients visiting your commercial site. Number two, almost every commercial fence serves a functional purpose. Whether that's designating property lines, keeping people out or keeping things in, we have a fence that will help you do it. From chain link fences to vinyl and steel ornamental, we've got everything few and far between. Whether you are looking for something specific or need help deciding based on your functional needs, our professionals can help find something that is durable and goes well with your property.
Emergency Fence Repairs
Not only do we do winter fence installations, we are no stranger to answering those emergency fence repair calls. We know how much damage Minnesota weather can cause. Even if we did not install your fence, we offer a 24 hour emergency repair line in case something goes wrong.
Twin Cities Fence is a winter fence installation company that is always here to fulfill your fencing needs. For more information or to ask about our services in Golden Valley, Plymouth, or St Louis Park, MN, give us a call today at 612-443-1948.