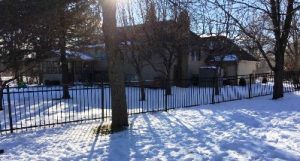 Just because the cold weather has arrived, it doesn't mean that our team at Twin Cities Fence is relaxing. Unlike many of the other fence repair contractors in Minnesota, we don't take the winter months off. We're proud to offer winter fence repair services to the Minnesota community. Our winter availability is just one of the many reasons why homeowners and commercial property owners have continued to put their trust in our experienced fence experts for over four generations.
Winter Repairs on all Types of Fences & Gates
No matter what type of fence or gate repair that you are dealing with this winter, Twin Cities Fence has you covered. To top it off, we offer 24-hour emergency winter fence repair services so that when the unexpected occurs, you're not left dealing with it on your own. During the frigid winter months and throughout the rest of the year, we regularly repair all types of fences and gates which include:
● Vinyl Fencing
● Privacy Fencing
● Cedar Wood Fencing
● Galvanized Steel Chain Link Fencing
● Color-Coated Chain Link Fencing
● Steel Ornamental Fencing
● Aluminum Ornamental Fencing
● Athletic Field Fences
● Handrails
● Farm Fencing
● Bumper Guards
● Many More!
Commercial & Residential Winter Fence Repair
At Twin Cities Fence, we love being able to serve the Minnesota community. We regularly install and repair fences and gates for both residential and commercial property owners. When winter fence repairs are needed, you shouldn't have to wait a long time for the repair to be completed. As a family owned fencing business, we've taken pride in providing quick and efficient fence repair services for four generations. Simply put, you become part of the family once you decide on partnering with Twin Cities Fence for your winter fence repair needs. Whether you're dealing with warping, rotting, corrosion, gate damage, etc., our winter fence repair experts have you covered every step of the way. Minimal interruption is our goal and durable repairs are our expectation.
If your fence in Minnesota is having issues, don't wait until the spring to request a repair. Instead, reach out to our committed team at Twin Cities Fence and take advantage of our winter fence repair services. To request your free, no obligation winter fence repair estimate on all types of fences and gates, simply reach out to our staff at (612) 443-1948. If your winter fence repair need is urgent, take advantage of our 24-hour emergency repair services.