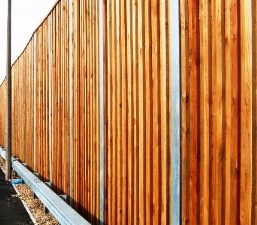 As the temperatures drop up here in the cold, Minnesota weather, most people do not realize what a great opportunity this is for a fence installation. At Twin Cities Fence, we are ready to offer privacy wooden fence installation during the cold Minnesota winter. If you are curious about fence installations in the winter, let our team of expert professionals at Twin Cities Fence talk you through it.
It's no surprise to anyone that spring is an ideal time to get outside. As the air warms up and our gardens begin to bloom, the last thing a homeowner wants is for you to dig up their yard and install a fence alongside their garden. Completing your privacy wooden fence in the winter allows more time for you to enjoy your yard when spring arrives. Whether you are planting a garden or just enjoying some privacy, it's never a wrong choice to get your fence installation completed early.
If you happen to ask your shrubs and trees what they would prefer, it would likely be a unanimous vote. If plants are in the direct path of your fence, they are much less likely to be damaged in the winter before their bloom ever hits.
Withstand Winter Months
Additionally, installing a privacy wooden fence in the winter means that you can have peace of mind for years to come. When you install in the winter, you know that it will notoriously hold up better to snow and cold temperatures. There's no contracting and expanding problems to deal with during transitional months, either.
Winter Fence Options
At Twin Cities Fence, we are happy to talk you through all of your winter fencing options. Our privacy wooden fences are a perfect choice for winter fence installation in Minnesota. Our privacy fences help to control noise, create a private retreat in our own backyard and even provide shade and protection from the weather. We have a variety of privacy wooden fencing options for you to choose from with varying heights. Our post and rail designs are extremely endless including the split rail, square style fencing and many other unique designs.
If you are interested in a privacy wood fence installation, don't wait until the spring. At Twin Cities Fence, we can install your fence right away and have your beautiful privacy wooden fence up and running before you know it. For more information about our privacy wooden fence in the winter of Minnesota, give us a call today at 612-443-1948 or feel free to email us with any questions at contact@tcfmn.com.