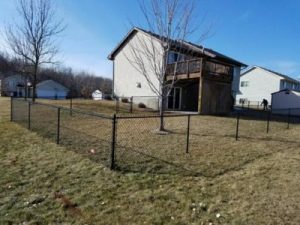 Do you have a new furry friend that's nosed their way into your life? If so, you probably are beginning to think about whether your home could benefit from a new fence. If you have an old and dilapidated fence, or if you're just looking to price out a totally new fence, feel free to reach out to our team at Twin Cities Fence. We've helped countless homeowners install dog fences to keep their furry friends as safe as possible. We use only the highest quality materials and thanks to our extensive expertise, we'll easily be able to create a fence that will stand up to even the most rambunctious pooches!
Best Fences for Dogs
Below we'll outline a variety of different fences that we've installed for dog owners to hopefully help you decide what's best for you and your beloved pet.
Wooden Fences
If your dog is one that typically barks at strangers or walkers passing by your home, you may be in the market for a wooden fence. If you install a solid wooden fence that's not slatted, you'll be able to block distractions such as cars on the street or a neighbor's home from your dog's view. You can also install wood fences fairly high, which can discourage dogs from attempting to jump over the fence and head out on the town.
Vinyl Fences
Vinyl fences will not split, rot or warp like wooden fences. In addition, vinyl fences are more durable and many have warranties that can be attractive to homeowners. Maintenance is much easier compared to wood fences too, simply throw a bit of soap and water on your fence and it will look brand new.
Chain Link Fences
If you're looking for the most economical dog fence option, you likely will want to look at chain link fences. These fences are low cost and low maintenance, making them perfect for an economical dog fence.
Dogs and Digging
One thing to keep in mind is that if your dog is a digger, you'll want to bury your fence at least 6 inches underground. This way you won't come home to a hole under your fence and no Fido!
Interested in a Free Quote for a New Dog Fence?
If you're looking to learn more about the different types of fencing that are perfect for your dog, feel free to reach out to our team today by phone at (612) 443-1948. We'll be happy to provide you with a free quote for any of our installation services.