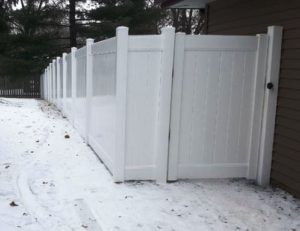 At Twin Cities Fence, we have a passion for top notch fence installation. As a fourth-generation fencing company, we've seen over the years the best ways to install a residential or commercial fence. Rest assured that there's no concrete involved in our fence installations, which is the preferred method of fence installation these days. No tearing up the yard, most fence projects are installed within one day and the savings is passed on to the homeowner or the business owner. We install during the winter months as well, for no additional charge and service the Minneapolis suburbs.
Say No to Concrete
At first thought, you may think that concrete is a good idea to use when installing a fence on your property. The truth, however, is that concrete fencing can be very difficult to deal with down the road. Especially if you invest in a wooden fence. At some point your wooden fence will need to be replaced If your wooden fence posts are set in concrete, it makes things much more difficult when trying to remove your fence. Additionally, concrete has been found to speed up the wood rotting process, which can reduce the life expectancy of your wooden fence.
Concrete Free Fencing Installation Options
When it comes to fencing options, it's hard to beat our fencing professionals at Twin Cities Fence. Installing fence forboth residential and commercial clients. Combining our long lasting fencing materials with our concrete free installation will set yourself up for success when it comes to a long lasting fence. If you are in the market for a new residential or commercial no concrete fence installation, you can choose from a wide range of fencing styles including:
● Vinyl Fences
● Cedar Wood Fences
● Chain Link Fences
● Steel or Aluminum Ornamental Fences
● Privacy Fences
● Gate System Installation
Free Fence Installation Estimates
Concerned about the overall cost of your no concrete fence installation project? Well, our team at Twin Cities Fence makes it easy for you by offering a free estimate. Our fence installation experts will meet with you one-on-one to discuss your fencing goals and objectives and we'll also provide you with a fair and affordable no concrete fence installation estimate. This estimate comes with no obligation, so if you aren't ready to commit to our recommended estimate, you can simply walk away with no questions asked.
No Concrete Fence Installation Company
At Twin Cities Fence, we have a true passion for residential and commercial fencing. If you are searching for a no concrete fence installation company that also has the experience to back up their work, look no further than Twin Cities Fence. To request a free estimate on your no concrete fence installation project, give us a call today at (612) 443-1948 or email contact@tcfmn.com. Remember…no one beats our price…no one!