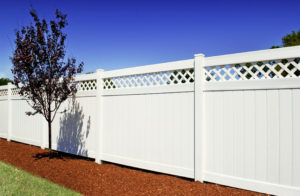 Vinyl fencing in the commercial industry has become increasingly popular over the years. One of the reasons is because it blends so well with commercial properties. This type of fencing can be implemented in a variety of ways and is built to last. If you're in the market for a commercial fence, consider investing in a vinyl fence from our expert team at Twin Cities Fence.
Minimal Maintenance Fencing Materials
As a business owner, the thought of having to maintain one more item on your property regularly might put you over the edge. The good news is that by investing in a commercial vinyl fence from our crew at Twin Cities Fence, there is very little maintenance that has to occur with your new fence. Vinyl doesn't break down like wood fencing often does and it doesn't require regular painting and staining like so many other fencing styles require.
Affordable and Weather Resistant Commercial Fence Options
The terms 'affordable' and 'weather resistant' don't always go together. However, when it comes to a commercial vinyl fence from Twin Cities Fence, these terms actually do. Our vinyl fences have become so popular over the years because they are very affordable, long lasting and weather resistant. These fences can withstand volatile weather with ease.
Diverse Vinyl Fence Styles
At Twin Cities Fence, we want to hear about your fencing ideas. After all, it is your property, so we want to make sure that you are totally satisfied with our commercial vinyl fence installation. We'll listen to your ideas and help you determine the best vinyl fence style for your commercial property. Some of the most common commercial vinyl fences that we install include:
Vinyl Privacy Fence
Vinyl Picket Fence
Ornamental Vinyl Fence
Vinyl Post & Rail Fence
Trusted Commercial Fence Installers
There are plenty of fence companies to choose from, so it is important to research the background of each option. When you get to Twin Cities Fence, you'll quickly notice our elite installation experience. We've been around for four generations and we have no plans of leaving any time soon! Another thing that you'll notice is that we are family owned. When it comes to our customers, they become part of the family the minute they begin to work with us. That's why we focus so much on customer service features such as offering 24 hour emergency fence repairs.
If you own a commercial property and are researching the best fencing material to invest in, choosing a vinyl fence is a great idea. Not only is it affordable but it requires little maintenance as well. To learn more about vinyl fences for commercial use, give our team at Twin Cities Fence a call today at (612) 443-1948.