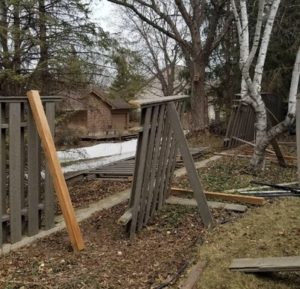 A fence can provide safety, security, privacy, decoration, increased property value and many other functional purposes. If you have ever heard the desperate pleas of a pet parent who has lost a dog due to a faulty, damaged for insufficient fence then you know how important it is to keep your fencing in top shape. Twin Cities Fence is a fence repair and installation company with extensive experience in working with all types of fencing materials from chain link, steel, vinyl and wood fences and several other types of residential, farm and commercial fences. Our professional grade fence repair and replacement services span four generations of excellence.
Wood Fence Repair Services
Wooden fences are very popular because they offer numerous benefits including long lasting beauty, durability and privacy. Unfortunately, a wood fence can become a victim of accidental damage, storm damage, wood rot or become worn over time. Twin Cities Fence can repair or replace individual sections or portions that are in disrepair. Our onsite estimates can provide you with an upfront figure for repairs and replacement costs for anything from a broken gate, small sections of fencing to an entire length of wood fence replacement. The new section can be made to blend in wonderfully with the color, style and materials of the existing fence structure.
Chain Link Fencing Repairs
Chain link fences can be a very affordable, low maintenance fencing option when used for play areas, backyards, schools, ball fields and commercial properties. When a chain link fence begins to rust or has been damaged in some way, it can often be professionally repaired rather than replaced. Your Twin Cities Fence representative can tell you whether rusted sections can be removed and replaced economically or if new fencing installation is a better investment.
Vinyl | Steel | Iron | Aluminum | Trex Fence Repair
Since Twin Cities Fence builds fences made of some of the most desirable fencing materials, we also know how to repair and restore many different types of fences. No fence is completely infallible but they rarely break down all at once. Repairing sections of damaged or worn out fencing can be a very cost effective way to restore the structural integrity in a timely manner. We work with durable fencing materials including:
Wood Fence
Chain Link Fences
Vinyl Fencing
Galvanized Steel Fence
Aluminum Fence
Trex Fence (wood and vinyl fence alternative material)
24 Hour Emergency Fence Repair Professionals
Fast, convenient and reliable fence repair services are available at all hours of the day and night. Twin Cities Fence provides 24 hour emergency fencing repair services for situations where safety and security are a major concern.
Professional Grade Fence Repair Services
Looking for a locally owned fence contractor who is reliable, affordable and provides excellent service and craftsmanship? Look no further than the trusted team at Twin Cities Fence. Over the course of several generations, our team has prided ourselves on the professional grade fence repair services that we can provide for our customers all year round. Fence repair is not an extra service that we offer, it is a part of our core business model.
Contact Twin Cities Fence at (612) 443-1948