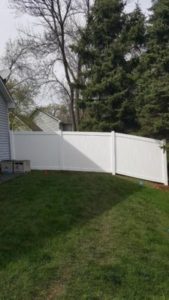 We all know how harsh the winters in Minnesota can be and a traditional fence system can take a real beating over the years being exposed to snow, ice, wind, rain and extreme temperatures. A vinyl fence is a great choice for a fence system that offers long term strength, durability and style, even against the Minnesota elements. Twin Cities Fence can install a vinyl fence on your property all year round – even this winter! You may assume that a new fence cannot be installed this time of year, but our crew offers year round service and can complete winter fence installations for homes or businesses all over the Minnesota area.
Choosing a Vinyl Fence for Your Property
Vinyl fences are very popular in the area for many reasons – they are extremely low maintenance, strong, durable and can be a great complement to many of the current contemporary design of businesses and homes. Vinyl fences are affordable and they can withstand the harsh and extreme Minnesota weather. Our team at Twin Cities Fence can install a wide variety of vinyl fences depending on your preferences and your needs. Some of our most popular options are vinyl privacy fences to give your home or business added privacy, contemporary vinyl picket fences with the look of a traditional wood fence, and ornamental vinyl fences that can add a special aesthetic touch. These fences can look very much like wooden fences, but, unlike wood, will not breakdown or become damaged over time. Our team can install all sizes, shapes and even different colors and our crew will help you design the perfect fence for your property.
Year Round Fencing Installation
Our Twin Cities Fence crew is used to working in the dead of winter as well as in the heat of the summer. In addition to our installation services, we offer 24/7 emergency repair service to clients in the Minnesota area who find that their current fencing system has been damaged. We have been in the fencing business for more than forty years and our success has been built on strong customer service that has cultivated customer loyalty.
If you have a fencing need of any kind, call our Twin Cities Fence crew directly at 612-443-1948. We will provide a free estimate for installation, repair or replacement in the coming weeks and we can complete the work for you any time of year.