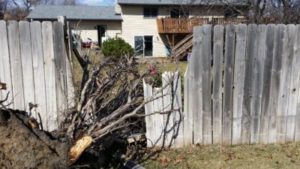 When a fence is built, it's typically installed to last. Unfortunately, sometimes even the most strong and durable fences succumb to the unbearable conditions of living in Minnesota. For this reason, we feel like it is extremely important to know that when there is a fence in need of repair, Twin Cities Fence is here to help. We have experience with all types of fences. With four generations under our belts, we have become the Twin Cities' most reliable and professional fence repair company around.
Quality Work for Your Investment
Inevitably, almost all fences need some sort of repair down the road. So the bigger question is, who are you going to get to fix it? Whether we installed your fence in the past or you are just now hearing about us, Twin Cities Fence is here to help repair the damage done. Whether it was damaged in a storm or an accident on the property, we can help fix it. We have worked with all types of different fence systems including wood, vinyl, steel, aluminum, PVC, ornamental, etc. Whatever fencing system you have, Twin Cities Fence has seen it. We are confident in our skills and the quality of our work, no matter who installed it originally. We've got all the right tools and fencing systems that will help to match your existing fence and also add increased strength and durability. Fencing repairs aren't always easy. When you choose your fencing contractor, it's important to choose quality.
Rapid Response Team
In the hospital, doctors and nurses have a certain alert system for when a patient looks like they are going downhill. This is called a rapid response. It is a fast way to get everyone to the bedside before the patient gets worse. At Twin Cities Fence, we like to think we are the rapid response team of fencing repair. First of all, we offer 24-hour emergency fence repair services. If a section of your fence has been damaged and your fence serves a functional purpose (keeping animals in, children in, commercial property, security purposes, etc.,) it's important to get it fixed quickly before more damage occurs. If you need emergency fence repairs that are fast and reliable, we've got you covered again.
Twin Cities Fence is a place for fast, affordable, and reliable fencing repairs. For more information on fence repair in the Twin Cities, contact Twin Cities Fence today at (612) 443-1948.