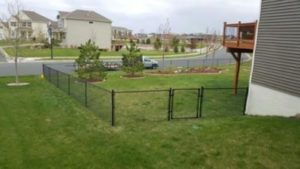 Although the winter months in MN bring cold temperatures and precipitation, it doesn't stop our dedicated team at Twin Cities Fence from installing chain link fences across the state. As a potential customer, you should be able to get a new chain link fence for your residential or commercial property regardless of the time of year. Offering year round chain link fence services is one of the reasons why we are now a fourth generation Minnesota business. We offer both repair and install options for our MN clients.
Fence Built to Last
One of the reasons why chain link fences have been so popular for decades is because of their durability and strength. Chain link fences hold up just fine against the tough Minnesota weather that we deal with on an annual basis. At Twin Cities Fence, our chain link fences can hold up against snow, ice, hail, as well as extremely hot and cold temperatures.
Reasons to Choose a Chain Link Fence
When it comes to fencing, our team at Twin Cities Fence loves all types of fencing styles and materials. Over the years, we have found that the reasons many people choose a chain link fence include:
Minimal Maintenance – With chain link fences, you can choose the galvanized steel option, which is nearly maintenance free. Or, you can go with our colored chain link fences, which have an extra layer of vinyl coating to protect and boost the overall life expectancy of your fence.
The Price is Right – There are some fencing options that are rather expensive. Chain link fences on the other hand are one of our most affordable fencing options. The great thing about these fences is that you don't have to sacrifice quality for an affordable fence. Our chain link fences are built to last!
Customizable – Not a fan of the standard galvanized steel look of a chain link fence? Not a problem! Our team at Twin Cities Fence provide color coated chain link fences, which commonly are seen in black, green or brown.
Protection – These chain link fences are great at keeping your residential or commercial property protected. Keep your equipment protected and your pets and children safe with a durable and long lasting chain link fence from Twin Cities Fence.
Even though the winter months in MN are quickly approaching, it doesn't stop our expert chain link fence professionals from handling a new job. If you are interested in requesting a free estimate on your commercial or residential chain link fence, pick up the phone and call our team at Twin Cities Fence. Contact us at (612) 443-1948 today. As your local chain link winter fence contractor, we're eager to get to work on your new fence!