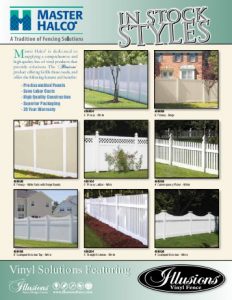 For over four generations, Twin Cities Fence has been installing all types of fences around Minnesota. We have seen all different types of styles, materials, and designs come and go. Currently, one of the most popular fencing trends in Minnesota happens to be vinyl. Vinyl fence can be utilized for both residential and commercial property purposes. It is a versatile material that allows for all different types of styles and designs. If you are considering a vinyl fence installation company in Minnesota, choose a company that will get the job done right. Choose Twin Cities Fence for all of our vinyl fence installation needs.
Vinyl Fence Maintenance
One of the most appealing aspects about vinyl fencing happens to be the very little maintenance that is required to keep your fence up. Should your fence ever get dirty, a quick power wash takes the dirt right off. Once your vinyl fence is installed properly, you do not have to worry about your fence warmping, rotting or decaying of any kind. It is strong and durable, weathering through the toughest of Minnesota storms.
Vinyl Privacy Fence
Among the popular vinyl fencing choices is the gorgeous privacy fence. Customized to be as tall as you need it to be, this fence allows for privacy, protects your property from intruders, encloses animals and children and delineates property lines. It is also known for blocking the wind and allowing for shade during a sunny day. Privacy fences can be made into any color, height or style you choose.
Contemporary Vinyl Picket Fence
Want the classic "white picket fence" look without the maintenance of wood? Using vinyl to achieve that nostalgic, idealistic look gets you there without all the maintenance. Our contemporary vinyl picket fence is gorgeous and maintains that traditional view without the hefty maintenance investment.
Ornament Vinyl Fences
Looking for aesthetics within a fence? Our ornamental vinyl fences add unique beauty to properties that are both pleasing to the eye and serve a functional purpose. Complete your look with a matching gate or perhaps a post design to make it uniquely yours.
Whatever vinyl fencing style you choose, our team of professionals at Twin Cities Fence can upgrade your vinyl fencing to use PVC fencing material. This material helps with strength and durability, along with adding style. No matter what type of vinyl fence option you choose, Twin Cities Fence should always be your first call. For more information about our vinyl fence installation company in Minnesota, give us a call today. Call us at 612-443-1948 or feel free to email us with questions at contact@tcfmn.com.