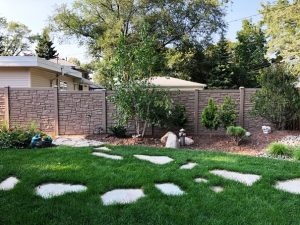 If you haven't heard of Trex material yet, just wait…you will! Trex fences are growing in popularity all across the nation but particularly getting more and more popular in Minnesota. Why? Trex is a durable, weather resistant, and low-maintenance fencing material that lasts for 25 years or more. At Twin Cities Fence, we are proud to be a Trex Fencing Certified Contractor in Minnesota that prides itself both in the material and in our quality installation. If you are looking for a Trex fencing installation company in Minnesota, you have come to the right place. We also install Trex fencing in the Minnesota winter. Have questions…please give us a call today.
What is Trex Fencing Composed of?
Many of our customers have decided to choose Trex fencing as their option just based on the look and feel alone. However, the more they learn about it, the more they like it. Trex fencing is essentially an alternative to your wood or vinyl fences. However, it has a great "go green" factor to it. Trex fencing is made up of about 95% of recycled board, which is composed of both plastic and wood fibers. It has a natural look and still have options as far as the color and aesthetics of your fence.
The Benefits of Trex Fencing
As a certified Trex fencing installation company, we have seen many benefits of this product up close and personal. Trex fencing is durable. You do not need to work about rotting, bending or warping like you may see with other fence systems. It is not susceptible to insects and is made to last for many, many years. It is also extremely low maintenance. There is no sanding, no painting, no staining required for your Trex fence. Should it get dirty, the only maintenance you would have to perform is giving it a good power wash.
Trex Fencing Installation
No matter how wonderful Trex material may be, it is only as good as the person that installs it. If you are looking for a certified Trex installation company in Minnesota that has a vast amount of knowledge and experience in trex fencing installation, your first and only choice should be our professionals here at Twin Cities Fence. We will ensure proper installation on your Trex fence for the first time.
Whether you are looking at Trex fencing for your commercial or residential property, our professionals have you covered. For more information about Trex fencing installation in Minnesota, give us a call today at 612-443-1948.