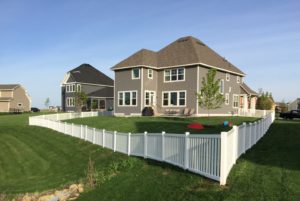 Spring is just around the corner and you and your family will soon be able to spend more time outside enjoying warmer temperatures and the fresh air. If you live in the Forest Lake, East Bethel, Bethel, or Pine City, MN area, now is a great time to think about adding a vinyl fence to your property, so that when you are outdoors with kids, pets, friends, or family, you have the privacy, security and safety you need for your property. A vinyl fence offers privacy without compromising visual appeal. Twin Cities Fence specializes in the installation and maintenance of all types of fences, including vinyl fences, and can help you achieve the goals you have for your fence as well as achieving the exact look you want for your property.
Choosing A Vinyl Fence
Vinyl fences are a very popular choice for homes and businesses in the Minnesota area in part because they complement the contemporary design of the homes and buildings in the area. Vinyl fences are ideal for Minnesota because they are very strong and durable, able to withstand the harsh, cold winters. Another benefit of vinyl fences is that they require very little upkeep and are built to last for many years. Adding a vinyl fence to your property can add value to your home.
The three most popular types of vinyl fences are vinyl privacy fences, contemporary vinyl picket fences and ornamental vinyl fences. Privacy fences do just what you would imagine–keeps your property protected and off limits to neighbors, guests or visitors. A privacy fence will give you peace of mind when you let your children outside to play and make a clear property line delineation. Contemporary vinyl picket fences give you the option of the traditional and iconic picket fence look, complete with the durability and strength of vinyl. These fences are made to withstand the harsh elements without breaking down and requiring extensive repair after only a few years. Ornamental vinyl fences, like vinyl picket fences, use PVC to ensure that they are strong and durable. They are primarily used for homes looking for a specific or unique design element.
Spring Fence Installation, MN
Twin Cities Fence has been installing and repairing all types of fences for residents and business owners in the Forest Lake, East Bethel, Bethel, or Pine City, MN area for more than forty years. Spring is a great time to have a vinyl fence installed on your property. For more information, call our team at 612-443-1948.