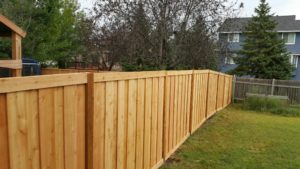 Twin Cities Fence offers fence-repair services twenty-four hours a day, seven days a week, three hundred sixty five days a year. We serve the communities of Minnesota, including Forest Lake, Bethel, East Bethel, and Pine City, Minnesota. Twin Cities Fence is based in Andover, MN, and has provided fence installation in Minnesota for more than four generations. Our reputation has been built during that time and is based on high quality service, loyal customers, and commitment to the communities we serve.
Residential And Commercial Fence Repair
If you own a home or business, you understand that a fence offers more than just the delineation of property lines; a good fence adds aesthetic value and therefore financial value to the properties you own. Fencing not only serves to denote separation of property, it also adds visual structure to our perceptions and keeps pets and children from wandering away. Our staff stands behind every fence they install. No matter what kind of material is used to construct a fence, and no matter who installs it, something inevitably will occur that will require repairs. Twin Cities Fence installs and repairs a wide variety of fences including aluminum, chain link, steel, vinyl, and wood fences for both homeowners and business owners in the area.
Twin Cities Fence knows this and has been on the cutting edge of industry standards by offering a 24-hour fence repair service. So if you have noticed that a combination of time and the harsh Minnesota elements have caused a problem in one or more parts of your fencing, Twin Cities Fence will be able to help you immediately, day or night. The weather in Minnesota can be brutal and fences tend to take a lot of punishment as a result. Don't neglect yours—when your fence needs repair, call our team at Twin Cities Fence to fix it quickly. The cold and snow and ice of the winter months and the occasionally unyielding sun of the warmer months can create a lethal combination for anything that is exposed to those elements.
Fence Repair Contractor, MN
Twin Cities Fence can fix your fence no matter what kind of damage has developed. If your fence is damaged by snow and ice, or a violent thunderstorm or high winds, you may need to take advantage of Twin Cities Fence's immediate service. The pride you take in your property should extend to the fencing on it, and when you need to contact a repair contractor, it should be Twin Cities Fence. Call 612-443-1948 for more information.