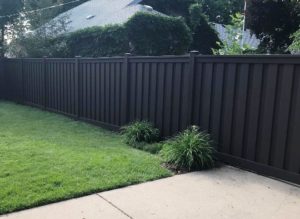 If you are considering adding or replacing a fence in the near future, you should take a strong look at vinyl fencing from Twin Cities Fence. This durable fencing solution provides numerous options for colors and styles that require very little maintenance to stay looking great. The recent popularity of vinyl fences is due largely to PVC fencing's durability and affordability. As a Minnesota fence contractor with four generations in the fence industry, our representatives pride themselves on excellence in service, design, installation and repairs of several different fencing solutions for residential and commercial applications. We proudly serve the Twin Cities seven county metro.
Vinyl Provides a Smart Fencing Solution
Vinyl fencing remains a very smart option for homeowners and businesses. The PVC materials are some of the most durable and cost effective for use in extreme climate conditions near the Twin Cities and across the upper Midwest region. Customers can choose from a good variety of styles, colors and personalized design features to make it their own.
Vinyl fencing truly can be a smart solution for protection and beauty whether you decide to go with a traditional look with white pickets, a contemporary privacy fence, semi-private or unique ornamental fencing. With the help of experienced fence contractors, you can create a protective and attractive fence that fits your taste without breaking the budget.
Durability & Strength of Vinyl PVC Fencing
PVC Fencing Materials can stand up to harsh weather conditions, insects and decay better than most products. With proper installation and minimal maintenance, your gorgeous vinyl fence will not warp, splinter, peel, flake, mold, rust, rot, corrode or decay.
The Strength of Vinyl Fences is hard to beat. The innovative compounds that go into making vinyl PVC is put through stringent testing to measure how it performs under diverse conditions. Vinyl fencing is manufactured to be highly durable and strong as well as flexible when needed.
Transferable Limited Lifetime Warranty from the manufacturer provides an excellent return on your investment for your home or commercial property.
Versatile Good Neighbor Fencing Features
Style and Design Options provided by vinyl fencing has been growing over the years. Twin Cities Fence can show you how a variety of vinyl fence panels that suit your needs. Choices include complimentary colors and style features for personalization. You can opt to top off your fence with a decorative lattice or cap that enhances the look and function.
All vinyl PVC Fences Installed by Twin Cities Fence can be considered good neighbor fencing because it is attractive to look at on both sides of the fence. Choose the best height, layout, picket spacing, color, curve, rail and gate for creating charm that will be enjoyed by you and your neighbors.
Top Choice For Vinyl Fence Installation
Twin Cities Fence should be your top choice for vinyl fence installation based on our years of experience and dedication to a customer satisfaction. Our focus as a fence contractor is to provide our clients with the best fence for their needs. Vinyl fencing is often the solution for an affordable, low-maintenance fence that is sturdy enough for extreme climates.
Contact Twin Cities Fence for a fence consultation to see if vinyl fencing is the right solution for your home or office. Call Today At: 612-443-1948.