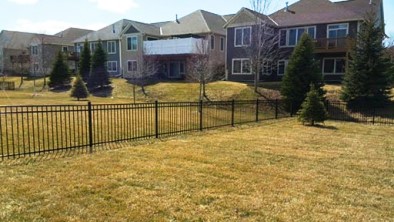 Looking for the right ornamental fence contractor for your Wayzata property? Twin Cities Fence can help you choose the perfect, unique ornamental fence for your property! Ornamental fencing can transform the look of a property, and make a yard appear beautiful and elegant. It creates an impressive look while still being functional and secure. Because the wrought-iron bars can be placed close together, it creates security for your property, while also adding class.
Why Choose Ornamental Fence?
Security – Ornamental fences are tall, and the wrought iron is placed close together, so it keeps intruders out and children and animals in. Ornamental fences can be built at different heights, so security is not an issue.
Versatility – Ornamental fences work well for pool areas, apartment complexes, office building, and private homes. The unique versatility of wrought-iron ornamental fences means they are a good choice for many different properties and situations.
Aesthetic appeal – We offer many unique and elegant decorative options for your ornamental fence to help enhance your property. Ornamental fences offer a distinct, elegant look which will add curb appeal to your property, whether it is commercial or residential.
Low maintenance – Ornamental fences do not require repairs, painting, or regular maintenance. If natural dust and dirt does appear, you just need to spray your fence with a hose and it will look as good as new. Additionally, ornamental fences are resistant to rust and corrosion.
Durability – Ornamental fences are very strong. They are capable of withstanding harsh weather with almost no signs of wear and tear. Ornamental fences can handle normal impact without damage.
Unique Ornamental Fence Installation Wayzata, MN
At Twin Cities Fence, we provide our customers with reliable and professional grade installation. With more than four generations working to install fences we have the skills and experience. When you work with us we are here every step of the way, making the installation is correct sure that you receive the fence and gates you purchased.
24-Hour Fence Repair
We also provide repair services for anything fence related. In case of emergencies we even offer 24-hour fence repairs. If you're worried about your pets getting past a broken fence. Or you don't want your business to look like it's not being taken care of. We provide for 24-hour emergency fence repair service. We want our customers to know that we are there for them even after the installation.