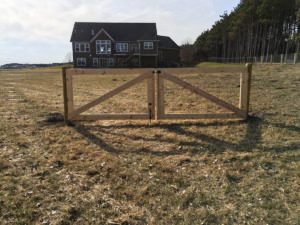 Maintaining a farm is a lot of work. Whether you are dealing with crops or livestock, investing in a farm fence is definitely a smart idea. Finding a reputable and affordable farm fencing installer is easier said than done. While there may be plenty of fencing installers, there are none that offer the high quality farm fencing installation services that our team at Twin Cities Fence brings to the table. Unlike other fencing company's, our installers have been with us for quite a while. As a family owned business that's been around for four generations, you can bet that we've installed a wide variety of farm fences. Based in Blaine, Minnesota, but servicing a large portion of the state for both installs and fence repair.
Customizable Farm Fencing
First and foremost, we want you to be totally satisfied with the farm fence that we install on your farm. Farm fencing is a big investment, so settling for mediocrity is not an option. At Twin Cities Fence, we offer professional grade farm fencing installation at competitive prices. Bring your ideas to the forefront and our farm fencing installers will develop a plan to turn your custom farm fencing dreams into a reality.
Popular Farm Fencing Options
Regardless of the material that you decide on for your farm fence, rest assured that you'll receive the same quality farm fencing installation services from our dedicated team at Twin Cities Fence. When it comes to choosing the materials and style for your farm or ranch fencing project, the most popular options that our staff installs include:
● Wooden Post & Rail Fencing
This style fence is typically the first style that comes to mind when farm owners think about a farm fence. Our wooden post & rail fencing options offer a traditional look and feel at an affordable price. If damage occurs down the road, this style fencing is easy to repair. Many farm owners utilize wooden post & rail fencing to control livestock and create property boundaries.
● Vinyl Split Rail Fencing
This provides your farm with a more modern look that often lasts longer than the traditional wooden fence. As long as regular cleaning is applied to your vinyl fence, it will maintain its color for quite some time and is virtually maintenance free.
Ontime Farm and Ranch Fencing Company
If you're unsure about the style fence to invest in, our dedicated team can help you every step of the way. By partnering with Twin Cities Fence, you get the total package. As a high quality farm fencing installer, you not only gain access to high quality materials, but also to a team that has the experience and attention to detail to properly install your farm fence the first time around. Usually in one day. To learn more about our farm fencing installation crew or to request a free estimate, give us a call today at (612) 443-1948.