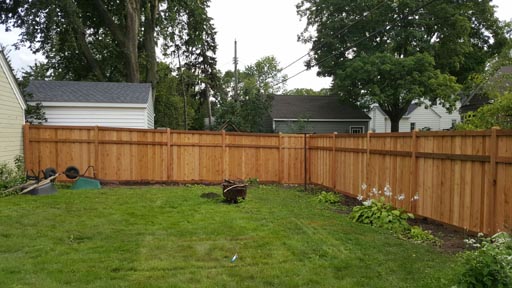 Looking for an affordable wood fence installer? At Twin Cities Fence, you have come to the right place. Not only are our wood fences priced affordably, but we are known for installing durable, strong fences and we can install them all in one day, saving you time and money. Twin Cities Fence is happy to provide wood fences that are both affordable and guaranteed not to rot.
One Day Wood Fence Installation
With many fencing companies, time is always a big problem. At Twin Cities Fence, we eliminate that issue. Typically, most companies take anywhere from 3-5 days to install a wooden fence. For some property owners, this crucial time is money being completely wasted. At Twin Cities Fence, we have knowledgeable and experienced staff who have been installing wood fences for years. Coupled with our vast resources that can get the materials to your door in a hurry, we can do one day wood installations on jobs that would take three days for other companies. While this is done at a fast and efficient rate, the quality of our installation never faults.
Strong, Durable Wooden Fences
Every fence that we install at Twin Cities Fence is built to last. Wood fences are notorious for rotting out. At Twin Cities Fence, we only offer viable and strong fencing options for our customers to guarantee longevity and durability for years to come. We even offer steel posts within wooden fences which give our customers the look of the beautiful, aesthetically pleasing wood with the strength of steel. This type of fence does not warp or rot through the harsh Minnesota weather that we are all prone to.
Wood Fencing Styles
Whether you are looking for a decorative wood fence to dress up your yard or a privacy fence to gain a new sense of personal space, wood fencing is an ideal option. At Twin Cities Fence, we have designed and installed a variety of different wood fencing systems for our customers that checked all of the boxes right off of their list. Whether you are looking for curves or decorative tops and patterns or just something to create a private, backyard oasis, Twin Cities Fence can deliver all these types of fencing options and install your fence all in one day. No tearing up your yard or leaving a mess. Every job we perform is done with a full clean up and no hassle mess for our customers.
For more information about our affordable wood fence installation at Twin Cities Fence, give us a call today at 612-443-1948.