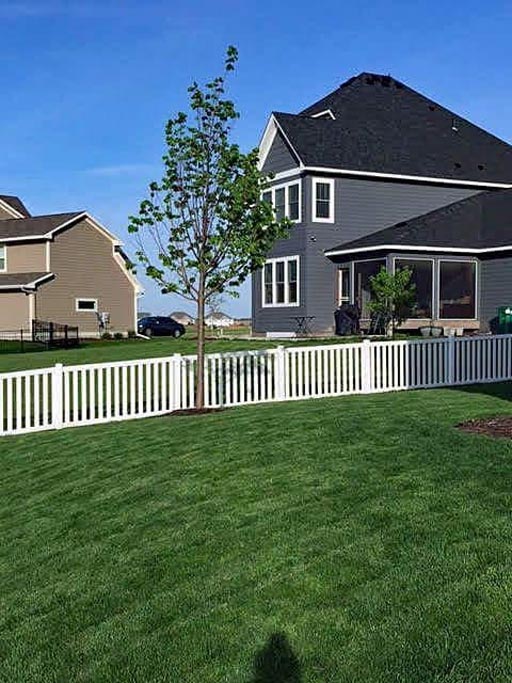 Your home is your most valuable investment and if you decide to fence in your property you want to be confident that your fence promotes safety, is secure and can withstand all that the Minnesota winters have in store for it. Twin Cities Fence offers a wide variety of residential fencing options that meet the needs of our customers AND that function well in the Minnesota winters. Our contractors are experienced and our team can help you choose the perfect fence for your property. Some of our most popular residential fencing options include:
Cedar Wood Fences: When you envision a residential fence, you likely think of a classic wood picket fence. Cedar wood fences can look classic, rustic or modern. They are durable and will last you and your family many years. A cedar fence is excellent to separate two properties and to keep your children and pets safely in your yard. Twin Cities Fence can design the cedar wood fence of your dreams.
Vinyl Fences: If you have decided that wood is not the material you prefer for your fence, vinyl may be a great choice for you. You may be surprised to learn that you can actually have a vinyl fence that looks nearly identical to the classic white wooden picket fence or even a split rail fence. A vinyl fence is a very affordable option that looks good and is also durable.
Steel and Aluminum Ornamental Fencing: If you are looking for a fence that will increase the aesthetic appeal of your home, consider a steel or aluminum fence. These fences do not rust or rot over time and allow your property to stand out.
Chain Linked Fences: Chain linked fencing is becoming increasingly popular on residential properties because it offers an affordable fencing option that is also durable and secure.
Privacy Fences: If your primary function for your fence is to create privacy for your property, Twin Cities Fence can help there as well. Our contractors can help you feel the sense of security you are looking for. We can install vinyl, wood, and even screened chain link privacy fences for your residential property.
Residential Fencing Contractors, Minnesota
Twin Cities Fence can help you choose the best possible material for your new fence given the size of the property, your budget and your aesthetic preferences. For more information about our residential fencing options, call us at 612-443-1948.