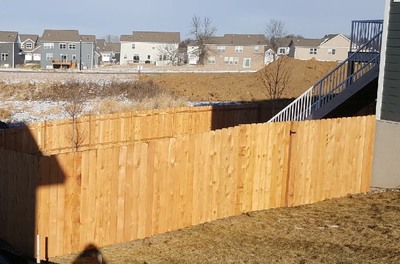 Are you a homeowner in the Orno area and in need of an experienced fencing contractor? At Twin Cities Fence, we're a fourth generation fencing installation company who are well versed in all types of different fencing materials and fencing systems. Feel free to reach out to our team if you're in the Orno area and looking for commercial or residential fencing repairs, installation or replacement.
Orno Minnesota Fencing Company | Installation and Repair Services
Below are some of our most popular types of fence installations:
Vinyl Fences – Build a high quality and long lasting fence with vinyl.
Cedar Wood Fences – Wooden fences are extremely durable and allow homeowners or commercial property owners to create a fence that's tailored to their style and needs.
Steel Ornamental – Steel fencing material offers durability and a classic look that should last for years to come.
Chain Link Fences – With chain link fences you can still see through the fencing material, but still offer protection for your residential or commercial property.
Aluminum Ornamental – Aluminum fencing is both affordable and stylish.
Privacy Fences – If you're trying to create privacy between neighbors, or cut down on noise, look into privacy fencing.
Wrought Iron Handrails – With wrought iron handrails you can ensure individuals can safely climb stairs around your property.
Gate System Installation – If you have a fence installed, you may want to add a gate system to control who goes in and out of your property.
Guardrail Installation – Guardrails are important for properties near roads.
Bumper Guards – Protect your commercial property thanks to bumper guards.
Fence Repair
If you've invested in a high quality fence, the last thing you want to have to deal with is fence repair. Repairs are an inevitable part of owning a home or commercial property with a fence. Depending on the type of material and the age of your fence, these repairs can be time consuming and sometimes costly. Twin Cities Fence can provide the necessary repairs to make your fence look brand new again in no time. We can repair wood fences, steel and aluminum ornamental fences and vinyl fences. We also offer 24-hour emergency fence repair service, which is beneficial if you need to avoid letting your animals or children outside of a fenced in area, or you're worried about the security of your home or business.
Contact Twin Cities Fence Today
If you're in need of a fence installation company in the Orno area, feel free to reach out to Twin Cities Fence today by phone at 612-443-1948. We'll be happy to come to your home or commercial property to give you a free estimate.