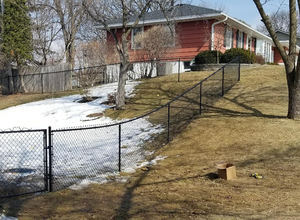 Are you thinking of installing a new fence at your home or office? One of the most popular fence materials is 4" chain link fencing. At Twin Cities Fence, we're a top chain link fence installation company in the Twin Cities area, and in this blog we'll discuss the many benefits of choosing a 4" chain link fence to better protect your home or office.
Why Choose a 4" Chain Link Fence?
The following are a few reasons why it pays to ensure you're installing high quality materials such as 4" chain link fencing.
Durability – With 4" chain link fencing, you're ensuring that your fence will last for many years to come. Some contractors may choose to cut corners by using inferior materials, but Twin Cities Fence has been around for quite some time and always uses the highest quality materials to ensure your chain link fence will last for many years to come.
Curb Appeal – A high quality chain link fence should offer great curb appeal that can be enjoyed by you and your family, but also by potential buyers if you ever decide to sell your home. A fenced in backyard is a great selling feature, especially for individuals who may have pets or small children.
Affordable – High quality chain link fencing is a much more affordable option compared to wood fencing, or vinyl fencing. In addition, because of its durability, chain link fencing is much more apt to last for longer than wood fencing in particular and also requires very little maintenance.
Low Maintenance – 4" chain link fencing is extremely durable and requires very little maintenance. In fact, if your fencing material is galvanized like the materials we use at Twin Cities Fence, this simply means that the fencing has actually been chemically treated to help keep maintenance down. In addition, galvanized fencing material is also rust resistant, making it even more durable.
Security – Chain link fencing offers additional security whether in a commercial or residential setting. At home, it can help to keep pets and kids contained, while on a job site it can allow for additional security as far as those who are permitted to come and go.
Ready for a Chain Link Fencing Estimate from Twin Cities Fence?
If you're ready to have one of our chain link fencing experts give you a free estimate, feel free to give our team at Twin Cities Fence a call today at 612-443-1948. We look forward to working with you soon!