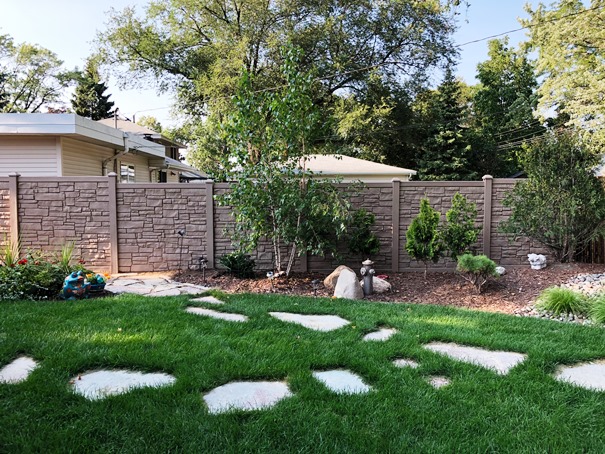 At Twin Cities Fence, we are proud to be a Trex fencing certified contractor serving the Twin Cities in Minnesota. If you've never heard of Trex, rest assured that more and more people will soon be talking about this type of fencing material. Trex fencing is an alternative to wood and vinyl fencing. It is durable, weather-resistant and extremely low-maintenance once installed. If you are considering a Trex fencing system, let your expert professionals at Twin Cities Fence get you up and running.
Why Choose Trex Fencing Systems?
So why are Trex fencing systems becoming so popular? Why all the hype? Whether you own a residential or commercial property in Minnesota, Trex fencing systems are a popular choice. This fencing system is made of 95% recycled board that includes plastic and wood fibers. It is another way that both a residential or commercial property owner could "go green." While this is a very eco-friendly product, no one has to sacrifice quality or aesthetics. Trex fencing has a natural look that is very appealing to the eye and is still remarkably durable. Trex fencing systems can be colored to look just like wood or vinyl, your choice!
High Quality Fencing System
Trex fencing systems are extremely durable. Property owners do not worry about rotting, bending, warping or degrading in any way. Imagine having a fencing system in Minnesota that will hold up during both the winter and summer months. Trex fencing systems are an investment that holds up and lasts for years. Trex even guarantees it. When you decide on a Trex fencing system, Trex will offer a 25-year quality guarantee on residential properties and a 10-year guarantee on commercial properties. Best of all, there is very little maintenance on these fences. No sanding, no painting, no restaining year after year. Being able to enjoy your property and rely on your fencing system to do its job is peace of mind that is irreplaceable.
Certified Trex Fencing Contractors
Trex fencing systems truly are a wonderful investment. However, choosing the right professionals to install it can make or break your fence, literally. At Twin Cities Fence, we are a Trex fencing certified contractor in Minnesota that works with Trex almost every day. We understand how to properly install Trex fencing systems on both residential and commercial properties.
If you are searching for a Twin Cities Trex fencing contractor in Minnesota, give us a call today. Call and see if Trex fencing systems are right for you today. Contact Twin Cities Fence at (612) 443-1948 and let us help you!