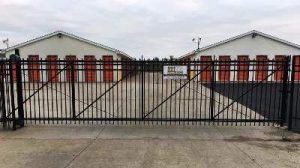 If you own or manage a Minnesota business and are thinking about having a fence installed, the contractors at Twin Cities Fence can help. We realize that you have options when it comes to choosing a fence contractor, so we work to set our services apart from the competition. When you partner with us, you will get more than a top notch routine fence installation. Here are some of the extra services we provide as part of our commercial fencing installation:
1. Wide variety of fencing styles and sizes: We offer a huge selection of fencing materials and can build a fence to perfectly fit your property, no matter how large or how small. Some of the most popular fencing materials are cedar wood fences, vinyl fencing, galvanized steel and colored chain link fencing, and steel and aluminum ornamental fences. We can also install special gates that can keep your property protected but allow for easy entry/exit for you and your staff.
2. Knowledgeable staff that can help you choose the best fencing material for your needs: Very often, the businesses we partner with on fencing installation projects use our staff's knowledge, experience and expertise to help determine what type of fence to install. We can help you determine the best material for your needs and your budget. Whether you are looking for privacy, security, to mark a boundary, or just want to give your property a facelift, we can match your need and your budget to the best fence!
3. Round the clock repairs: Even long after we install your fence, we stand behind our work and are available to make any repairs or complete necessary maintenance 24/7. Our fences are strong and durable, but we all know that the Minnesota weather can cause problems from time to time!
4. Excellent customer service: Our staff is professional, friendly and will respond to your inquiry quickly. We have built our strong reputation because of our customer service.
5. Affordable pricing: We are a local business and offer affordable pricing for all of our commercial fencing installations. We can help you choose the best fencing material for your budget and provide you with a free quote so that you know exactly what the project will cost!
Commercial Fence Installation In MN
If you are looking to add a fence to your commercial property, give us a call at 612-443-1948 to find a time for our crew to come out to your property and help you move this project forward!