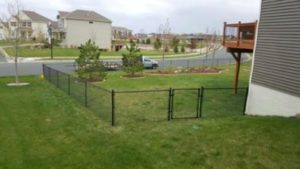 If you're thinking of getting a residential chain link fence installed or repaired, Twin Cities Fence is the contractor to choose to get the job done.
How do you know if you've chosen a good fence contractor? The proof is in the details.
Ask to see the contractor's license and a copy of their insurance – both need to be up-to-date and valid. Check with friends and/or neighbors (or ask the contractor directly for references) to see what their impression of the Blaine residential chain link fence installer is; do they have a solid reputation for being on-time and completing the work they say they will do at a fair price?
Questions to Ask Fence Contractors
Some questions to ask potential fence contractors include:
What are my fencing options for my property and what are their advantages/disadvantages?
What's your work experience like?
How long have you been installing fences in this area?
Would I be able to see some of your work in person?
Ideally, you want to work with a fence contractor who is both knowledgeable and experienced. As with most projects, good two-way communication is so important. You should feel comfortable asking a contractor questions and then receiving answers that make sense and are delivered in a professional and courteous manner. Before any work begins, you should understand the process of what the contractor plans on doing, as well as a timetable for when the work will start and finish. Don't be afraid to ask for a written contract detailing what's to be done.
Blaine Chain Link Fence Installer
A good Blaine residential chain link fence installer like Twin Cities Fence will be able to specifically tell you who will be working on your property and who their on-site supervisor is, so you know who to talk to with any further questions or concerns. Inquire about warranties and/or guarantees. If and when you feel sufficiently informed about the whole Blaine residential chain link fence installation or repair, and you're comfortable with the workers involved being on your property, you should have a stress-free experience…and, in the end, a fine fence to show for it.