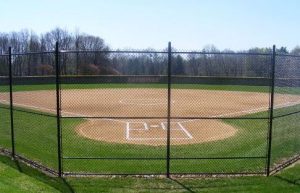 Figuring out how to fence athletic areas can vary depending on the sport. Some sports have fences to protect the viewing audience from sports equipment hitting them. Other sports only need a fence to mark a playing area or out of bounds. There must be certain standards of durability and function. The best way to know which fence is the best for whatever athletic field or court is to consult with your Twin Cities fencing contractor.
When first trying to figure out what fence you should be using for a specific sport there are a few questions to consider:
● Is there a specific purpose for the fence other than marking territory?
● Will the fence only surround the field/court or is the fence going to be a backstop?
● What is the equipment for the sport like?
● Are there ways to make the fence look better?
● What conditions will the fence be subjected to (excessive water, etc.)?
Choosing the best sport fencing
Fences can provide many functions for athletic fields or courts. The purpose of the fence determines the type of fence used for the sport. It can provide crowd control or tell the audience and players where the area of play for the sport is, but most importantly, it can provide safety for audience members and the participants.
Football field fencing: Chain link fences usually surround multiple areas of the football stadium and tend to be about 4' high. They surround the track area, go along the edge of bleachers to keep spectators from slipping and, depending on the budget of the stadium, may even use chain link fences to surround the stadium as security. Most times, these fences are PVC coated to give the fence a specific look and to make the fence long-lasting.
Baseball field fencing: In baseball, there are more variations to the fencing because of the athletic equipment and for the safety of players and spectators. The sizing of the chain link fence that surrounds the field is 4-6' high and the outfield fence is approximately 6' high, while backstops tend to be almost 25' high.
Tennis court fencing: The chain link fence surrounding most tennis courts is meant to enclose the area to contain the balls. Fence height depends on the surrounding land and buildings, but the usual size is about 10' tall. Tennis fences are commonly coated, and the fabric mesh is smaller than the typical 2" diamond so that tennis balls are unable to get stuck in the fence as easily.
Athletic Field And Sports Fencing Contractors In Minnesota
Twin Cities Fence installs countless types of fencing, and sports fencing is just one of the fencing types we've come to specialize in. We'll help you choose the best fence for your sports court, field, or facility. Whether you're looking for a commercial, residential, or municipal sports fencing company in Minnesota, contact Twin Cities Fence today at (612) 443-1948, and let us take care of the rest.