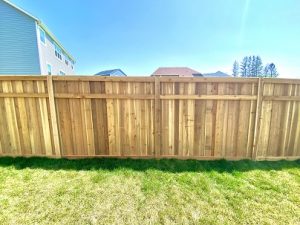 Imagine spending the summer in your backyard with your family and friends, grilling some burgers, sipping on lemonade, taking a dip in the pool, and with the children running around. These are so much fun – but only if you have a quality fence that ensures security and privacy! Always consider your budget, but also know your priorities. Ask yourself the following: What is your objective for getting the fence? Do you want to increase the level of privacy? Or are you more concerned about the trespassers?
Wood Fence
Wood fences can provide any backyard character. And it's not surprising that many homeowners choose this option. Most likely, when we say wooden fences, you think about the traditional white picket fence. However, you can install tall fences both for security and privacy. Best of all, you can easily adjust and contour the wood fences depending on the size and style of your backyard.
Chain Link Fence
This type of fence has been in the US since the 20th century. What makes it popular is that it is low maintenance, affordable, and versatile enough to fit in practically anyone's backyard. While you can address your need for added security, it isn't the best option if you wish to have privacy.
Vinyl Fence
Vinyl fencing gives both privacy and security and is more flexible than wood. With this, you can prevent fatal injuries in case of collision. While it can be more expensive to install, you need to consider its durability. Since it is bound to last longer, you won't have to spend extra on replacements.
Composite Fences
Composite fences are made from wood-plastic composites and were originally used for outdoor decks. Take note that there is no need to paint these fences, but it could be a breeding ground for mold. And because of that, regular maintenance is highly recommended. They are lightweight and can last for years.
Aluminum Fence
Highly durable and corrosion-resistant, most of these fences are beautifully manufactured and can give your backyard that instant 'facelift.' Less expensive than steel options, aluminum fences are economical. Note that aluminum can be bent easily, therefore, it's not the best option if you need security.
Steel Fences
It could be an expensive choice, but you will not have to worry about security and privacy. Steel fences are made to last for a long time, which justifies the higher cost of having these installed.
Twin Cities Fencing Contractors
Twin Cities Fence offers a wide range of residential fence installation services. We specialize in aluminum, custom wood, chain link, privacy, and more. Our primary goal is to always exceed the expectations of each customer by providing top-quality work. It's time to start installing your fencing system, so stop waiting, and call Twin Cities Fence today at (612) 443-1948!