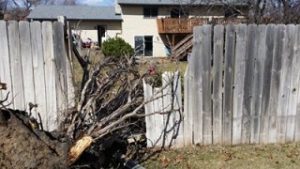 The fence on your residential or commercial property was once a large investment. Its purpose is to secure your property, define property lines and offer privacy. So, when your fence needs repairs, don't put off these issues. The longer they are ignored, the more costly the repairs can become. When it comes to finding a fencing company in MN that provides trusted fence repairs, anytime of the year, in all kinds of Minnesota Weather there is no better option than Twin Cities Fence.
Our fencing company is backed by four generations of fencing repair experience. Rest assured that we have seen it all when it comes to fence damage during this time. Thanks to this experience, no damage is too drastic for our staff to be able to handle. Our fencing experts can repair fences, gates, and other residential and commercial fixtures. We repair all types of fencing materials including wrought iron, wooden, vinyl, chain link, aluminum, trex and steel.
Fence Sectional Repairs or Replacement
You can count on our crew to do everything in their power to repair your fence without having to replace. We focus on sectional repairs that leave the perfectly functional section of the fence alone and only repair the parts with damage. Our honest evaluations will evaluate the damage and provide our repair recommendations. If your fence is too damaged to repair, we will provide you with affordable and durable replacement options.
Emergency Fence Repair Service
Our staff understands that damage to a fence is never planned. That is why we place such a strong emphasis on providing constantly reliable service to our clients. Fencing repairs are not an additional service for us, it is a primary service. To ensure that we are available to our clients even during the emergency repair situations, we offer 24-hour emergency fence repair services. Before you know it, your fence will be repaired and back to full strength with minimal interruption to your residential or commercial property.
If you have a fence on your Minnesota residential or commercial property, there will be a time when repairs are needed. Putting off these repairs can end up costing you much more money down the road. If you currently need your fence repaired or if you'd like to connect with our staff for your future fencing repair needs, contact Twin Cities Fence today. For a free fence repair estimate from our fencing repair professionals, give us a call today at (612) 443-1948.