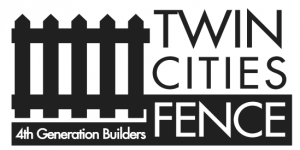 Most fences are long lasting and durable, however, there may be times when a fence repair is needed. Whether your fence is made from weak materials or damage has occurred during a storm, our team at Twin Cities Fence has you covered. We are a reliable fence repair company in Minnesota that can handle your fence repair needs, big or small.
After you pick up the phone and give our fourth-generation fence installation and repair team a call, we will schedule a time to come evaluate your commercial or residential fence. We will identify all of the necessary repairs and provide you with a free estimate regarding the expected costs of the repair project. You can count on our staff to provide you with an honest evaluation where only the repairs that are truly needed are recommended. Oftentimes, we repair sections of your fence at a time and will make sure that the newly repaired sections seamlessly blend in with the rest of your fence. If we find that repairing your fence isn't the right move financially, we are also your preferred fence company to handle any replacement needs as well.
Reliable Fence Contractor
There are multiple fencing companies in Minnesota that you can choose from, but what sets our team at Twin Cities Fence apart is the fact that our customers are always our number one priority. We know that fence repairs are often unexpected, and you need the repairs completed quickly. As a team on your side, we are proud to offer 24-hour emergency fence repair service. A damaged fence means that equipment, pets, and property are exposed. Rather than having to wait a few days for a fencing company to repair the fence, take advantage of our 24-hour emergency repair services so that your fence can get back to full strength quickly.
Diverse Fence Repairs
Thanks to the amount of experience that our fencing repair experts bring to the table, our staff is able to repair a wide range of fencing materials. The common fence materials that we service and repair include the following:
● Wood
● Vinyl
● Steel Ornamental
● Aluminum Ornamental
● Much More!
If you are dealing with damage to your residential or commercial fence in Minnesota, there is only one team to call for your fence repair needs. Reach out to Twin Cities Fence and take advantage of our reliable fence repair services. To learn more about these services, give us a call today at (612) 443-1948.