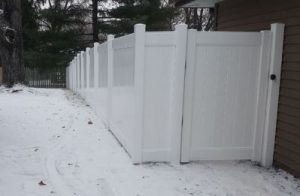 Do you live in Blaine, MN and need a fence installed? At Twin Cities Fence, we are a cold weather fence installation company near you that can get the job done no matter what the weather is doing outside. In fact, we love doing fences in the winter!
Do not put off your Backyard Project. For some reason, many home or business property owners believe that putting off fencing installation until the spring makes sense. Folks, if you need a fence in the winter, we would love to do it! Winter is a great time of year to have a fence installed! At Twin Cities Fence, we work all year round. As a local Blaine, MN company, we don't let a little snow flurry hold us back from getting the fence that you need. Why scramble in the springtime to get your fence installed when you could be enjoying it right now?
Fence Installation During Minnesota Winter
It's always interesting to see how little privacy our property actually withholds when the leaves all fall. Even if you have larger trees or shrubs to protect your space, those gaps leave lots of room to expose your property and even leave you feeling a little vulnerable. Installing a privacy fence can bring you that seclusion once again. Quit feeling exposed in the winter and let our contractors keep you safe.
Quality Fence Installation in Blaine, Minnesota
For over four generations, our company has been performing quality fence installations for Blaine, MN residents. We have endured the harshest of winters and still managed to get the job done. Our technology and equipment allow us to get the job done in a timely and efficient manner. Truthfully, we worry less about harming plants in the winter that we do in the spring. If your manicured landscaping thrives in the spring, installing a fence in the winter may be ideal for you! Additionally, installing in the winter weather is good for your fence. A new fence installation during cold weather may hold up better against the cold, snow and sleet because it was installed within that environment.
Don't waste another second debating on whether or not a winter installation is appropriate for your property. If you live in Blaine, MN and you are looking for a cold weather fence installation company, call Twin Cities Fence today. Our friendly staff will gladly give you a free estimate on all of our fence installation services. For more information, call us today at (612) 443-1948 or send us an email at contact@tcfmn.com.