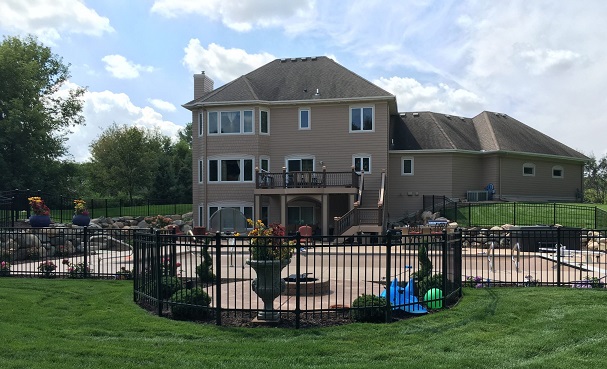 As we continue to invest more and more time into really living on our Minnesota properties, it has become quite imperative to both residential and commercial properties alike that your space outdoors matters. One of the most beautiful, efficient and timeless fences around happens to be a steel fence. When you imagine a steel fence, most of us think of the wrought iron gates or fencing systems that are from old movies. However, with rust and corrosion, it was an easy decision to no longer utilize wrought iron fencing. So, in order to get that timeless look, beautiful steel fencing was created.
What is a Steel Fence?
Galvanized steel ornamental fencing is gorgeous and specifically made to mirror the look of iron while also being more durable and weather resistant. If you love the aesthetics of an iron fence, you are going to love the beautiful look of steel fencing. Our steel fences at Twin Cities Fence are made of a multilayer coating system. In Minnesota, this is a real advantage. More sensitive material could easily bend, break or work with one Minnesota summer hailstorm. However, our steel fencing systems are doubly protected against weather and corrosion. Steel fencing systems are hot-dipped and then coated with a polyester powder coat. Not only does this prevent premature rusting, it increases the longevity of and integrity of your fence's life. With the double coating, it also requires much less maintenance, allowing you to simply enjoy the look of your beautiful fence line.
Steel Fence System Purposes
You simply cannot go wrong with a steel fencing system. The aesthetic alone is to be desired by so many. Creating a beautiful and traditional atmosphere is pleasing for both residential and commercial properties. While aesthetics do play a large role, your steel fence is also quite functional. While steel fences aren't a visual barrier for those on the outside, it most certainly is a physical one. Depending on the height, you can easily keep or close out anything that does not belong. Steel fencing is often used in commercial properties, parking lots, restricted areas, surrounding pool areas and defining entire properties to keep trespassers out. Purpose and beauty are the largest driving factors for our steel fences today.
While steel fences are both functional and beautiful, they are only as good as the company that installs them. At Twin Cities Fence, we have been installing steel fences in Minnesota for years. We will work to create both the perfect look and functionality that steel fences can bring. For more information about our steel fence installation services, give us a call today. Contact Twin Cities Fence today at 612-443-1948 or feel free to send us an email at contact@tcfmn.com.