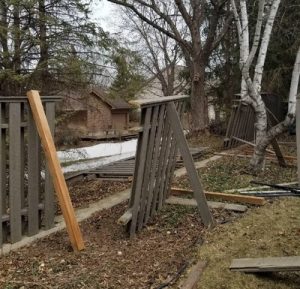 Your home is your most sizable investment and if you have chosen to install a fence for privacy, security or for aesthetics, you want to keep it functioning well and looking its best. Twin Cities Fence is a trusted Minnesota fence repair company that specializes in all types of fence repair. Fences are susceptible to the harsh Minnesota weather and can be damaged or worn down over time. Our team can make repairs, large or small depending on your needs and have your fence back to working order in a very short time.
The fence repair contractors at Twin Cities Fence can isolate and repair the part of your fence that is damaged, without the need to repair (or replace) the entire fence. We will only do the repairs that you need and will communicate about the process every step of the way. We complete fence section repair and replacement and can repair aluminum fences, chain link fencing, steel and vinyl fences, ornamental fences, wood fences and fences on commercial or residential property.
24-Hour Fence Repair all Year Round
We also understand that if you have a problem with your fence, you may not be able to wait days or even weeks for a repair. So, Twin Cities Fence offers 24-hour emergency fence repair services so that you do not have to be concerned about your fence being vulnerable for a significant length of time. Our contractors also work year round – even in the brutal Minnesota weather and are always willing to complete a fence repair.
Fence repair is a very important part of our business, not just an "add-on" service, so you can expect to receive professional, courteous service from our team, affordable prices and high quality work. Customer satisfaction is the cornerstone of our business and we work to always prioritize the needs of our customers. We are a local Minnesota company and we feel that a customer referral or repeat customer is the best possible compliment we can ever receive.
Residential and Commercial Fence Repair in MN
Fences serve many purposes for residents and business owners in the Minnesota area. A damaged or broken fence can negatively impact your home, business and the overall look of your property. For more information about our fence repair services, call Twin Cities Fence today at 612-443-1948, or email us at contact@tcfmn.com and we can provide a free estimate for fast and affordable fence repairs.