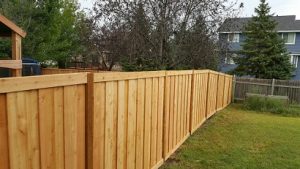 A privacy fence is ideal for a residence or business location if you are looking for a way to add safety, security and an additional layer of protection to your property. Privacy fences can be installed around any space including a backyard or a commercial property. What you might not realize is that you have many choices when it comes to the look of your privacy fence. Twin Cities Fence installs several different types of privacy fences depending on your needs, your budget and your style.
Vinyl Privacy Fence: A vinyl privacy fence is extremely strong, durable and virtually maintenance free. These fences provide a modern look to complement your home and will keep others from being able to see you and your family in your backyard. It can also offer some shade for your property and keep your kids and pets enclosed and safe. Vinyl fences are also a great investment for a business looking for privacy and a low maintenance fencing option.
Wood Privacy Fence: A wood privacy fence gives you a traditional look with the function that you are looking for. A wood fence creates a clear boundary, keeps neighbors and those driving by from seeing you and your family in your backyard and can be built very tall to keep intruders away. Another benefit of a wooden privacy fence is that it actually cuts down on the noise so that you do not disturb others or are not disturbed by others!
Chain Link Fence with Privacy Screen: One of the biggest benefits of a chain link fence with a privacy screen is the price. This is the most affordable privacy fencing option. Our crew uses decorative polyethylene slats to add a tinted layer of protection to the chain link fence. With these tinted screens, we can match the color of your chain link fence and give you more of a private area for your home or business.
Experienced Privacy Fence Contractors In Minnesota
If you have been considering a privacy fence for your property, now is a great time to reach out. Twin Cities Fence completes fence installations all year round and would be happy to come take a look at your property and go over all potential options with you. We stand behind our work, take care of our customers and offer affordable pricing. For more information, give our team a call at 612-443-1948 for a free estimate.