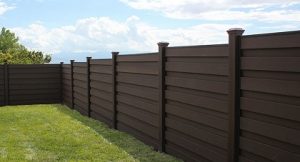 Do you love your property, but wish you had a little more privacy from your neighbors or a busy street? Well, our team at Twin Cities Fence has the perfect solution for you. Consider investing in a privacy fence for your property. We offer our clients plenty of privacy fence choices that are affordable, durable and long lasting. At Twin Cities Fence, we take pride in being able to offer our clients plenty of choices when it comes to choosing their privacy fence.
Privacy Fence Choices
Fences don't all have to look the same. Instead, consider investing in a fence that matches your personality, preferences and style. Our fencing experts are here to make this an enjoyable process for you. Afterall, a privacy fence is a big investment, which is why we are so adamant that you consider all of our privacy fence choices. By teaming up with our team at Twin Cities Fence, the choice is truly yours. We're here if needed to help provide our recommendations based on your interests and goals.
There are three primary privacy fence choices that Twin Cities Fence has to offer our clients. These primary choices include:
● Wood Privacy Fence – This is a traditional look that is effective in providing privacy and security to any property. These fences are often tall and hard to climb, making them great for pet owners or families with children. Twin Cities Fence can incorporate customized designs into your wood privacy fence if interested.
● Vinyl Privacy Fence – If you're not a fan of maintenance, this may be your privacy fence! Our vinyl privacy fences are durable and virtually maintenance free. They will not warp, rot, corrode, ruse or break down over time, which is definitely a plus!
● Chain Link Privacy Fence – If you're looking for a privacy fence that is great on the budget, then a chain link privacy fence may be the way to go. This is the most affordable privacy fence option. We can incorporate decorative polyethylene slats to add privacy to your chain link fence.
If the missing piece of your property is a privacy fence, it's important to know that Twin Cities Fence offers plenty of privacy fence choices. As a 4th generation fence company, we've become experts in privacy fence installation. To learn more about the privacy fence choices that our team at Twin Cities fence has to offer or to request a free privacy fence estimate, give us a call today at (612) 443-1948.