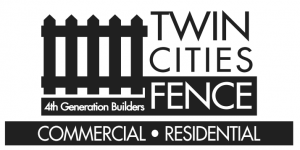 Have you finally made the decision to invest in a fence for your North Metro home or commercial property? Now that you've made the decision to move forward with this property improvement project, then next thing to do is find a fencing contractor near you. If you are looking for a team of fencing professionals in the North Metro that have the experience to back up their work, look no further than our team at Twin Cities Fence.
Year-Round Fencing Contractors
With the type of weather that hits the Minnesota area, there are quite a few fencing companies that close down for the winter months. The good news for you as a property owner is that you don't have to worry about this because you've chosen Twin Cities Fence as your preferred fencing contractor near you. We take pride in being year-round fencing contractors. This enables our staff to get your project done on time, no matter what time of year it may be.
Endless Fencing Options
Another aspect of our business that our team at Twin Cities Fence takes pride in is the endless amount of fencing options that we offer our residential and commercial property owners. Who said that fences all had to look the same? We can cater to your design, material and color preferences so that you get the exact fence that you've been searching for. Some of the popular fencing options that many of our property owners choose include:
● Wooden Fences
● Vinyl Fences
● Chain Link Fences
● Steel Fences
● Aluminum Fences
● Privacy Fences
Free Quote with Zero Obligation
When it comes to any property improvement project, the cost of the work is usually the biggest concern. At Twin Cities Fence, we have been in the fencing business for four generations. Over this time, we've been able to continue offering competitive fencing prices to our clients. To help alleviate any financial stress that may be holding you back from pursuing this project further, we are pleased to offer a free quote on your potential fence project. The best thing about this free quote is that it comes with zero obligation. If you decide after reviewing our detailed quote that now is not the right time for you to move forward, we will totally understand. Our clients are our top priority and we want you to feel completely comfortable with your fencing investment.
When it comes to finding a trusted and affordable fencing contractor near you in the North Metro area, look no further than our team at Twin Cities Fence. To request your free quote today, give us a call at (612) 443-1948.