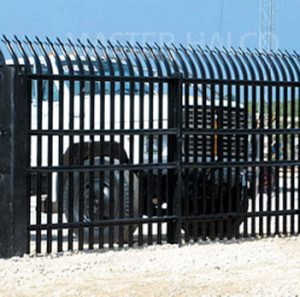 There are many businesses that require extra security around the perimeter. Depending on how secure you want your facility to be, there are a few good solutions. While there is no "one size fits all" solution, the expert fencing contractors at Twin Cities Fence would like to help you with the decision, navigating the sales process, and providing installation services.
Types Of Security Fencing Materials
There are several types of fencing materials to choose from, though steel and high-grade aluminum are the most common choices for security fences, due to their strength and durability. There are also solid and see-through variations. While solid metals would help keep your property private, it also provides a hiding place for potential burglars. Speaking of burglars, it would be advantageous to have an anti-climb feature on your security fence and consider installing heights of 8-feet or higher.
Security Gates
Many security fences also need to have access to the property, at some point. For the security fences, many property owners opt for some sort of gate access. There are several options with gate access. Thinking about how you need to gain access to your property and discussing these needs with the fencing contractor will ensure you have a solid entry point, but that the fencing at and surrounding the entry point is also secure.
Added Security Fencing Features
Security fences can simply deter entry, but with the addition of several higher security features, entry can be outright prevented. Options can be considered such as the lack of horizontal points where intruders could stand and gain entry. Options such as shock wire, razor wire, or concertina wire can also be added to help deter or prevent entry.
Security Fencing Contractors
Because security fencing can be more complex, and because you want to ensure the job is completed properly, don't plan on installing a security fence by yourself. Allow the security fencing professionals at Twin Cities Fence to help design the most secure fence that will work for you. The expert staff can help you decide on the right materials, can help create and design the layout, can sell you the materials, and can perform installation. Contact us at (612) 443-1948 to schedule a no cost consultation, so your property and all its assets can be protected as soon as possible.