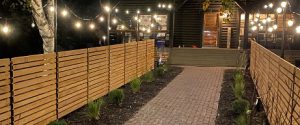 Of course, everyone thinks of fences as bordering a property or section to cordon off an area and provide privacy, etc. But there are so many other uses of fencing that don't just have to be used along the perimeter of your yard. Call the fencing experts at Twin Cities Fence to discuss any of these installations or discuss your next fencing project.
Garden borders: Chain-link fences and several specialty type fences become excellent ideas for bordering a garden area in order to keep unwanted wildlife from eating, perhaps literally, the fruits of your labor. Fences are much more stable than the standard post and netting that is installed as a DIY project. Fences can include gates and storage areas for wheelbarrows, tools, or even a composting area. The ideas are endless!
Garden trellis: A section of chain-link fencing or aluminum fencing can provide the perfect backdrop for a growing vine in the garden that needs support. Tomatoes, cucumbers, grapes, and many flowering vines can all benefit from this application. Throw out the stakes and twine. Use a section of fencing!
Balcony-level security or privacy: Perhaps you have a second-floor balcony or patio and need to ensure that the edges are safe. Consider fencing sections. What about in a duplex or apartment setting, where privacy is desired? A section of wooden privacy fencing is the perfect solution. The slats also allow for planters and planting boxes. The fence section then becomes extremely functional!
Walkway or driveway border: Driveways or long walkways and trails are best lined with a split rail fence. This helps to define the path, while providing a sense of security for those traveling the paths. As Minnesota gets buried in snow, the fencing now becomes about the only way to identify where the path or drive exists!
Corner fences: There are several spots where a corner fence is ideal. This includes only the installation of two or four sections of fencing that identify a corner. This can be nice at the corner of the property where you want to create visual impact. Two sections of privacy fencing can create a corner and provide nice privacy around a spa, hot tub, or patio.
Ready To Incorporate These Or Other Fence Uses On Your Property?
Perhaps you'd like to incorporate one or more of these ideas on your property. Perhaps you have other creative uses for fencing portions. To have fencing placed on your property, call the fencing installation professionals at Twin Cities Fence. We're standing by to partner with you to provide a viable solution today. Call (612) 443-1948 for a free consultation.