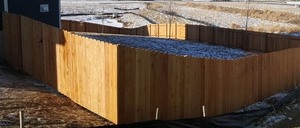 We understand that property repairs aren't something you look forward to. You invest time and money into your home or business only to see it falling apart. Of course when you're building or remodeling, you have the pleasure of seeing your property become what you've only imagined. At that stage in the game, it's much less stressful finding someone to do the work you want done. But when it comes to repairs, you just want it finished, and you want it done fast. There's no joy in seeing your fence knocked down or falling over, and even getting it fixed feels like a chore. But we're here to make sure your fence repairs are as stress-free as possible! Twin Cities Fence provides both commercial or residential fencing repair in Blaine,MN at an affordable price.
24/7 Emergency Fence Repairs
One of the advantages of working with Twin Cities Fence is that we make you a priority, as our customer. We understand how inconvenient and even dangerous it can be to leave a fence broken down. Whether it's in your yard or on your business property, fences are often intended for security, and when they're damaged, your property is no longer as secure. With 24-hour fence repairs, we can keep your property safe no matter when your fence comes down. That means if you need to get back to business as usual but can't function with a broken fence, you won't have to worry. We'll be there to get your fence back on its feet so you can get back to business.
Insurance-Approved Storm Damaged Fence Repair
One of the most challenging parts of living in Minnesota is contending with the hazardous storms. Storm damage affects homeowners and business owners across the state, and it makes property ownership more stressful than it should be. Especially when you have to deal with an insurance company! Luckily, we can handle that for you, negotiating storm damage fence repairs on your behalf so that you can worry about more important things.
Scheduled Fence Repairs and Maintenance
Every fencing material has advantages and limitations, and longevity is something that's different for every material. If your fence is less durable than other materials, you'll likely need to schedule maintenance or repairs every now and again to keep your fence in good shape year-round. These types of fencing repairs aren't substantial like storm-damaged fence repairs typically are, but they may be necessary to maintain your fence's quality.
Fencing Systems We Repair
We work with several fencing materials, including:
• Wood fencing
• Vinyl fencing
• Steel fencing
• Aluminum fencing
• Trex fencing
Our wide selection of materials means we're easily able to match the materials in your fence when making repairs, whether we installed it or not! If you're looking for a contractor for fence repair in Blaine, MN who you can trust to give you all of the options you could need and trusted services, trust Twin Cities Fence. Contact us today at 612-443-1948 for a free fence repair estimate.