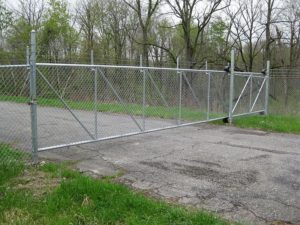 At Twin Cities Fence, our commercial fencing contractors know that part of owning a good business is making sure that your business property is beautiful, well-kept, and maintained by professionals. That's why we offer commercial fencing installation services in Andover, MN and the surrounding areas, helping business owners maintain secure and welcoming properties. If you're in need of commercial fencing contractor for your business property, contact us today to talk about our fencing styles and materials so that you can get your property's fencing system finished as soon as possible.
Commercial Fencing
We make it a priority to be the best fencing company you can choose, and that's why we offer excellent and professional service and wide selection of fencing materials. Whether we're fixing a fence or installing a fence, you can be sure that whatever fencing material you choose, you won't ever have to worry about finding someone to take care of it; we know all there is to know about wood fencing systems, vinyl fences, chain link fencing, and steel and aluminum ornamental fencing. We're even experts on gate installation and maintenance, ensuring that we can help manage your property's fencing systems no matter how simple or unique. Our commercial fencing materials include:
Cedar Wood Fences: Whether you're looking for a wood picket fence, wood privacy fence, or a more rustic split rail fence, our wood fencing systems will be of the highest quality, ensuring you have a beautifully outlined property that will be as secure as you need.
Vinyl Fences: As with our wood fencing systems, we can build vinyl picket fences, privacy fences, and post and rail fences, as well as ornamental vinyl fences. More and more, vinyl is becoming an affordable and popular fencing material, and it always ensures that a business looks well-kept, as this type of fencing is easily cleaned and maintained.
Steel and Aluminum Fencing: Aluminum and steel fencing systems are often the perfect commercial fencing system for businesses with areas that need to be sectioned off to limit access without limiting visibility. These fences are perfect for surrounding restricted-access areas like housing developments; hotels; private swimming, park, or recreational areas; and much more.
Chain Link Fencing: Choose from galvanized gray steel chain link fencing or color-coated chain link, and you'll have a secure, simple commercial fencing system that will last for years to come and make sure your property is clearly outlined and off limits to trespassers. Limit access further with drive-in roller or swing gates, or add on a simple walk-in swing gate; the choice is yours!
To start making your business more secure, contact the commercial fencing contractors at Twin Cities Fence today at 612-443-1948 or contact@tcfmn.com, and find out how our Andover, Minnesota fence builders can improve your business property with quality work and professional service.