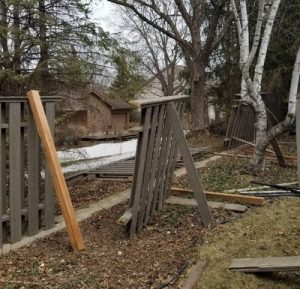 Your home is a huge and important personal investment, and if you have installed a fence for protection, privacy or to keep your children and pets contained, you want that fence to do its job. Unfortunately, given the weather we can have in East Bethel, Minnesota, fences are susceptible to damage, weathering and aging. Twin Cities Fence may be known for our professional commercial and residential fence installation services, but we also specialize in local residential fence repair. Our team understands that fence repairs are a necessary part of a fencing system, and we can help you get your fence in working order quickly at an affordable price.
East Bethel, MN Fence Repair Company
Twin Cities Fence can repair fences of all types including wood, steel, vinyl, aluminum, and ornamental fences. We have the experience, equipment and knowledge to identify the damaged and vulnerable areas of your fence and repair it so that you can be confident that your fence will be functional for many years to come. Unlike many other local fencing companies, we will not try to convince you to replace your fence, unless it is absolutely necessary. Very often, only a small area of the fence needs to be repaired at once. This can be done quickly with very little disruption to your property. Small repairs can be more difficult to make, so other companies may try to convince you to have a large section (or even the entire fence) replaced instead. Our team will focus only on the area that is damaged and let you know if we see any other areas that may need to be repaired in the future.
24/7 Residential Fence Repair in East Bethel
Twin Cities Fence is focused on our customer's experience. We are committed to providing high quality, reliable and responsive customer service for every single job that we take on. We complete residential fence repairs in East Bethel, Minnesota all year round, because we understand that your fence might have been damaged in a storm or other weather event and you need repairs done quickly. We even offer 24-hour emergency fence repair. Give us a call anytime, day or night at 612-443-1948 or email contact@tcfmn.com, and we will head out to your home and see what we can do to repair your fence ASAP!