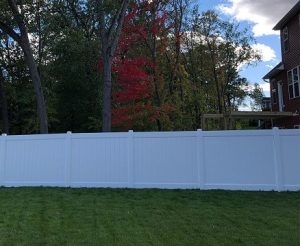 Looking for a fencing contractor in East Bethel, Minnesota? Here at Twin Cities Fence, we offer year-round fencing installation for all East Bethel, Minnesota residents. Known for being reliable, experienced and available all year long, Twin Cities Fence is the perfect choice no matter what type of fence you may be searching for. Providing services to the East Bethel, Minnesota community for over 4 generations, we are ready to handle whatever fencing services you may need.
More often than not, our services in the East Bethel area lean heavily towards fencing installation. We can meet all of your installation needs no matter the size or material. We offer a wide variety of fencing materials to handle the most common fences in the area. These include vinyl fences, cedar wood fences, galvanized steel chain link fencing, color-coated chain link fencing, steel ornamental fencing and aluminum ornamental fencing. Since every fence installation we do is customized to your exact needs, the size, shape and designs can be created with your vision in mind. Can't decide on what you really want or need? Our design team here at Twin Cities Fence can help you make that right decision. We will discuss both your functional and aesthetic needs and help you find the right material and design for your property. As the premier fencing contractor in East Bethel, Minnesota, we want you to get exactly what you've been envisioning.
Fencing Installation & Repairs
Additionally, your favorite local fencing contractor in East Bethel, Minnesota also handles all types of fencing repairs. We understand that fencing repairs can truly be an emergency. We have more fencing experience than anyone around and can quickly repair your fence when you need it most. Whether your fence was installed by us or even another company, we are happy to help. We even provide 24-hour emergency fence repairs for our customers so that you can continue your day as normal as possible. Additionally, we also offer scheduled maintenance repairs too. If you've noticed that part of your fence is breaking down or rotting, let us know! We will quickly repair or replace the damage so that no further damage is done.
At Twin Cities Fence, we are proud to be your fencing contractor in East Bethel, Minnesota. For more information about our fencing services, give us a call today. Call Twin Cities Fence today at 612-443-1948 or send us an email at contact@tcfmn.com.