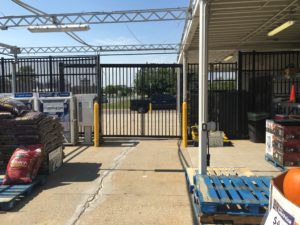 What good is a commercial fence if the gate doesn't work? The purpose of a gate is for it to easily open and close when you or your customers need to enter or exit your property. The gate on your fence ensures that your property is secure at all times. If your Forest Lake, MN business is dealing with a faulty gate, all you need to do is call our repair team at Twin Cities Fence. Quickly, we'll have the gate on your commercial fence running smoothly!
4th Generation Fencing Contractor
When it comes to experience, our track record can't be matched. As a 4th generation fencing repair and installation contractor, we've seen just about every repair that can occur with the gate of a fence. Helping businesses across Forest Lake, MN and beyond with their fencing needs is our passion!
Diverse Gate Systems
What is great about having our team at Twin Cities Fence right in your backyard is that we are able to work on nearly any type of fencing system. Most commonly, the gate systems that we work on and repair include:
● Roller Gate – This very popular option is used on many commercial properties as a safe and secure barrier because they are often difficult to climb. Roller gates are regularly used when you are trying to cover a large entrance. If your roller gate isn't functioning properly, our repair technicians can quickly identify the issue and get it repaired in no time.
● Swing Gate – For smaller commercial properties, our staff can easily repair your swing gate so that it functions properly at all times. Whether your swing gate repair is big or small, we've got you covered!
24 Hour Emergency Fencing Repair Shop
Regardless of the type of material the gate of your commercial fence is made of, our expert team at Twin Cities Fence has you covered. Over the years, we've worked on a wide range of fencing materials including wood, vinyl, steel, aluminum, chain link, etc. Gate repairs are part of our overall line of work, and to top it off, we even offer 24 hour emergency gate repair service. So, if you're looking to close up your commercial fence for the night and the gate isn't working, we can get one of our gate repair specialists out to your property in no time.
If you are dealing with a faulty gate on your Forest Lake, MN commercial fence, don't try to fix this on your own. Instead, leave this repair up to the experts at Twin Cities Fence. To learn more about our gate repair services, give us a call at (612) 443-1948.