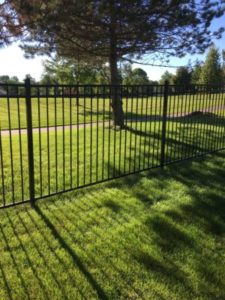 Looking for a fence that is strong, durable, and affordable? If this is you, consider using an aluminum fence. Built to last, aluminum fences are good for both residential and commercial purposes. If you are looking for an aluminum fence contractor in the Forest Lake, Stacy, East Bethel, Oak Grove, Blaine, or Ham Lake, MN areas, give Twin Cities Fence a call today.
Versatility of Aluminum Fencing
Twin Cities Fence has been installing aluminum fencing for over four generations. We specialize in all different shapes, sizes, and styles of aluminum fences. We love installing aluminum fences because of the true versatility that the aluminum material brings. So many people immediately think that choosing the aluminum fence means that you are sacrificing with style. That is just not true! In fact, most of our aluminum fences are mistaken for the classic wrought iron fence style. However through years of experience, we have discovered that aluminum is simply better – offering more durability and being essentially maintenance free.
Aluminum Fence Designs
Aluminum fences are great as it can draw eyes to your property. We have a variety of style options that can diversify your fence as much as you'd like. Draw the eyes with dramatic style and design or keep it simple and blend it in with your property. We have spear tops, staggered spear tops, flat tops, and even picket style aluminum fence styles for you to choose from.
Maintenance Free Fencing
Whether you are building a fence for residential or commercial purposes, arguably the best part of the aluminum fence is that it is maintenance free! There is no white washing or re-staining this fence! It is built to last and will look beautiful for many, many years. If we were all honest, no one really wants to spend time making sure their fence is in good condition. Not only will it function properly without maintenance, but it will continue to look flawless.
So, are you ready to get your aluminum fence? Well then here's the crucial part! All of the great attributes of the aluminum fence are worth nothing if they aren't installed properly. At Twin Cities Fence, every fence we install is done to perfection. We have over four generations of experience in aluminum fence installation and provide reliable and professional-grade work every single time. We beat out our competition through our quality installation and our affordable prices. If you are looking for an aluminum fencing contractor in the Forest Lake, Stacy, East Bethel, Oak Grove, Blaine, and Ham Lake, MN areas, give Twin Cities Fence a call today at 612-443-1948.